This article is more than 1 year old
Apple Watch: Wait a minute! This puny wrist-puter costs 17 GRAND?!
Plus: New skinny MacBook and exclusive HBO TV streaming
Apple boss Tim Cook appeared at an art center in San Francisco on Monday to confirm when the much-hyped and super-expensive Apple Watch will go on sale.
In short, you can order one from April 10, and it'll hit store shelves on April 24. Cook also revealed other bits and pieces, such as a new slim MacBook going on sale soon.
As expected, the price tags on the watch will range from expensive ($349 for an aluminum Sport watch with rubber band) to eye-watering expensive (a Watch running from $549 to $1100 depending on the band and screen size) to flat-out obscene (a solid gold Watch Edition will start at $10,000 and go up to $17,000).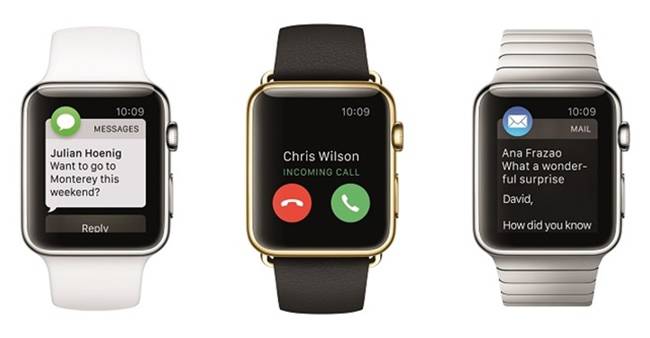 The three price tiers: 'reasonable' 'outrageous' and 'that's more than my car cost'
Cook and Co. said the arm-slab will support pay-by-bonk Apple Pay, and can answer calls from your wrist (like Dick Tracy). It charges wirelessly when snapped into a cradle; one charge lasts up to 18 hours. The gadget is rated IPX7: it can be splashed with water, and submerged to one metre, but swimming with the bling-pod on your wrist will likely ruin it.
We're told the travel biz and home appliance makers are making apps so wearers can check into flights, unlock hotel rooms, and switch on toasters by waving the gizmo over a terminal or sensor.
It can also measure your heart rate and distance walked – going as far as nagging you if you're being too lazy – and run other apps to show things like the weather and stock prices, just like rival smartwatches. You need an iPhone with the Watch so it can connect to the internet and be useful beyond telling the time.
Apple thinks the Watch could save your life. What it needs is a killer feature.
Searing analysis coming out of the tech punditry: $10k Apple Watch is for rich people. OTOH that's less than 3 months of SF rent. ¯\_(ツ)_/¯

— The Register (@TheRegister) March 9, 2015
Though most of these features were announced during previous publicity events, today's presentation finally confirmed an official release date and price points for the smartwatch line. It'll go on sale in nine countries initially: US, UK, China, Japan, Australia, Hong Kong, France, Germany and Canada.
Apple is also working with hospitals and universities to publish an open-source software development kit dubbed ResearchKit to (in theory) contribute data to medical research projects. Users can download and install apps built using the toolkit, and opt into the medical studies. Their basic health information, collected from their iThings, will be given directly to researchers through a secure channel. Early partners for the program include UCLA, Mt Sinai hospital and Stanford University. Apple says it cannot access this information.
For example, picture academics studying the onset of Parkinson's disease, and using gait measurements (taken from movement sensors on iPhones) to compare how people walk and identify sufferers. Something like that.
Research Kit will enlist iOS apps to study disease
While the Watch update was the headliner at Monday's event, another product unveiling threatened to steal the show: a new MacBook that marks a slimmer and lighter mid-point in Apple's notebook lineup.
The revamped MacBook will be Apple's slimmest, with its thick section just 13.1mm wide. It weighs 2lb (0.9kg), and has a 2304 x 1440 12in Retina display. The notebook sports a single reversible USB-C port that can be used to transfer data and charge the machine. Via adaptors, sold separately of course, the port can carry video – a multi-port convertor that will split USB-C into HDMI and USB-A will cost you $79, for example. Get ready to buy lots of new cables, in other words.
The computer's design is fanless, so there's extra space in the case for bigger batteries. Battery life is listed at 10 hours of web browsing or 9 hours watching iTunes. 10 hours is what Apple calls all-day, proving it really is on another planet.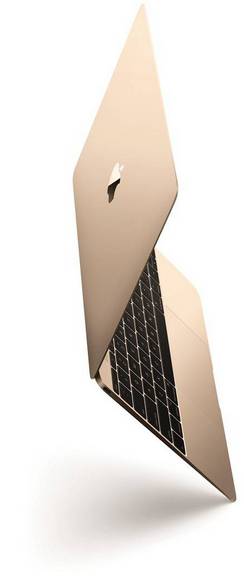 MacBook Gold ... also in 'not hideous' colors
The new MacBook also comes with a keyboard that feels a bit better to use, apparently, and a new trackpad that offers haptic feedback and can sense how hard you're pressing down on it. A forceful push can trigger things like "open new email to Sir.Jony@apple.com, Subject: Isn't a gold laptop a little ridiculous?"
The new MacBook, in its $1299 base configuration, will be powered by an Intel Core M processor running at 1.1GHz (going up to 2.4GHz with a Turbo Boost), and 8GB of memory with Intel HD 5300 Graphics and 256GB of SSD storage. Fans can ramp up the notebook to a 1.2GHz (2.6GHz boosted) Core M chip and 512GB storage for $1,599.
The new model will ship on April 10, but can't be ordered right now. Color options for the case include, silver, space gray, and gold finishes.
Apple's other two notebook lines, the MacBook Air and MacBook Pro, will also receive minor hardware updates, which are available immediately.
Starting today, the MacBook Pro Retina model will sport the MacBook's Force Touch trackpad, Intel Iris 6100 graphics hardware and Core i5 and i7 processor options up to 3.1GHz (3.4GHz Turbo Boost). Promised improvements include improved battery life (up to 10 hours) and faster flash storage performance.
For the MacBook Air 11in and 13in models, the update will bring support for Thunderbolt 2 connections along with new Intel HD Graphics 6000 hardware and Intel Core i5 processors at 1.6GHz (2.7GHz Turbo Boost) as well as the promise of faster flash storage performance.
Finally, Apple is throwing a bone to those who already own Apple gear. Cable network HBO said Apple will be the exclusive provider of the standalone HBO Now streaming player.
Starting from April 12, iOS and Apple TV owners will be able to pay a $14.99 monthly fee to have access to all of HBO's movie content and television series without the need for a HBO cable package subscription. ®