The yummy mummies' likeable wagon: Nissan Qashqai Tekna
More than just an unpronounceable name
---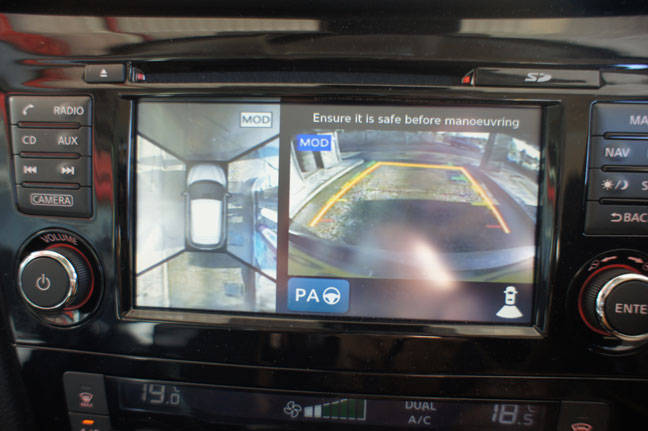 The outstanding feature, however, is the bird's eye view. The Range Rover we reviewed recently had a similar feature, a collection of ultra wide angle cameras in the front, rear and mirrors provide an image which looks like a third person view from above the car.
You can position it incredibly accurately when parking. The Nissan, though, is a quarter of the price of the Range Rover and the system is better.
There are lots of features which are becoming more and more common on new cars such as the blind spot alerts and traffic sign recognition, but the all-round view for parking has to be the one with the greatest application. Particularly for a vehicle which will spend so much time doing the school run. And if you still can't park it, there is always Parking Assist.
When we pressed on – and needing to cover ground quickly to make an appointment – the Qashqai didn't bite back. Yes, you can tell it's not got any power to the rear wheels but over a range of good A and B roads it proved to be a lot more entertaining to drive than one would expect for something which has no pretensions of sportiness – Nissan has the Nismo for that.
Catch the turbo off boost and it seems a little laggy but there are six gears so you can drive around that. The suspension – McPherson strut with rigid mounting mini sub frame at the front and twist beam at the rear – has electronic help in the form of Active Engine Brake, Active Trace Control and Active Ride Control, which must explain why it's manners are so good.
Steering feel a little artificial, and the wheel perhaps on the chunky side but that's hair-splitting.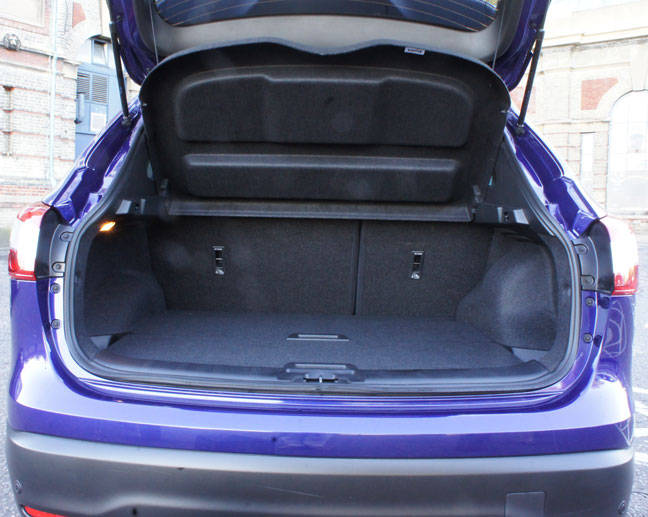 While plenty big enough for a weekly shop, the 430 litre boot is a bit small for an SUV
Interior fit and finish is good. Even after climbing into it after being shown around the Aston Martin factory it didn't feel low rent. One of the reasons for this is the wonderful full length glass roof.
It's amazingly refined for a mid-priced car, the review model was £25,850, of which only £550.00 came from the options list: Ink blue metallic paint. The layout of the controls is good and it's quiet, really surprisingly so.
It seems that the yummy mummies have got it right. This is a car which is completely practical, very well priced against the competition and which is nice to drive. ®

The yummy mummies' likeable wagon: Nissan Qashqai Tekna
Class-leading family car. Well priced against competition with a decent level of poke from a 1.6 turbo.
Price:
£25,850 as tested RRP