This article is more than 1 year old
I say Zuck off, YOU say Zuck off, we ALL say Zuck off
More activists weigh into Internet.org row
Mark Zuckerberg's Internet-for-all-via-Facebook, Internet.org, has attracted yet more unwanted attention, with 67 digital rights groups signing an open letter accusing the outfit of violating 'net neutrality.
One signatory, activist collective Access Now, has published the letter – perhaps ironically on Facebook.
The letter comes hard on the heels of the EFF issuing the same warning.
The 67 groups take issue with Facebook's requirement that sites be "properly integrated with Internet.org to allow zero rating" ("zero rating" meaning that users can access those sites without them counting against any data plan allowances).
"We are especially concerned that access for impoverished people is construed as justification for violations of net neutrality", the group stated.
"Internet.org misleadingly labels zero-rated applications the 'Internet,' when in fact users only receive access to a tiny portion of it. The project acts as a 'walled garden' in which some services are favoured over others", they continued. Other concerns are privacy, freedom of expression, and security.
As El Reg noted earlier this month, Internet.org currently blocks HTTPS, but Zuck promises that will be changed soon.
On the matter of privacy, The Register notes that Facebook's long-controversial datr cookie is set by Internet.org – meaning that even people merely interested in the the initiative get the track-everywhere cookie set.
The image below shows datr set in a browser session test today by the author.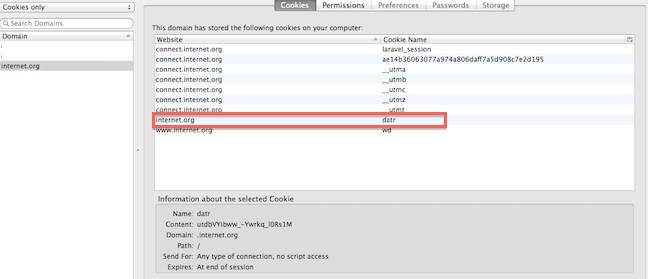 The Social NetworkTM was probably relieved that the noise generated by the discovery of the cookie in 2011 had died down.
However, Belgian researchers' discovery of ongoing tracking this year re-ignited the issue, forcing Facebook to protest, yet again, that it really, truly doesn't invade user privacy. ®
Bootnote: Access Now has asked for a clarification that it does not speak for all 67 of the organisations that are signataries to the open letter. ®