X-IO erects its iglu over the data management market
Services head unit keeps your ISE blocks covered
---
X-IO, the supplier of just-won't-fail ISE storage boxes, has added a data management services head unit which can support up to 11 ISE blocks, calling it an iglu.
ISE, the Integrated Storage Elements, come in disk (100 and 200), all-flash (800) and hybrid flash/disk (700) variants, have a five-year sealed box warranty and guaranteed performance even when full. Historically, they have lacked enterprise-class data management services that are common inclusions with other storage arrays. That hole in X-IO's product armour has just been fixed with the iglu head.
This head has dual Xeon controllers and its software features:
Automated disaster recovery
Cluster-supported high-availability
Mirroring for fault-tolerance
Application-aware snapshots
Thin provisioning
Phone-home with self-diagnostic capabilities
Copy-swap for non-disruptive migration
Continuous Data Protection
Replication (WAN-accelerated, including compression and encryption)
Full-featured reporting
Third-party integration includes SMI-S, SRM and VMware's VAAI – no VVOLs yet, with both VMware and Hyper-V supported. Server hosts hook up to it with six 10GbitE iSCSI or eight 8Gbit/s Fibre Channel. Management access is by a standard 1GbitE (two ports).
The software has, we understand, an OEM base which X-IO has extensively modified, cutting out some functions and adding others. The project was started in the previous CEO's era, meaning Brian Owen rather than the recently-appointed Bill Miller.
X-IO now has a scale-up option with iglu, which is said to have a distributed controller architecture. Since iglu Blaze is a standard dual-controller design, this implies to us that a scale-out version of iglu is coming. Should we be thinking of an iglu Inferno?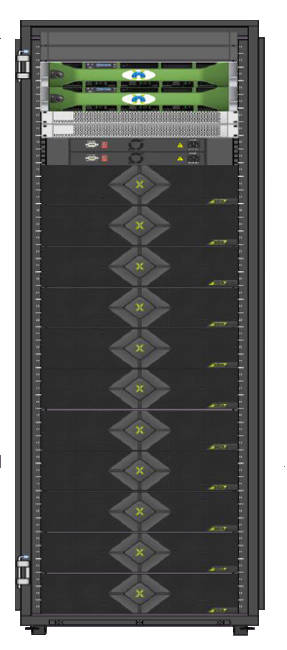 X-IO iglu rack with 11 ISE enclosures below the iglu head unit and Fibre Channel switches
The company is presenting iglu Blaze as the lowest-maintenance SAN available, saying it is pre-integrated with no need for volume layout configuration. A 9U base unit comprises the iglu head plus one ISE enclosure, with from 21TB to 28.8TB of capacity. The maximum capacity with 10 expansion ISEs added is from 231TB to 310TB. The iglu blaze provides up to 400,000 IOPS and offers 99.999 per cent uptime with distributed cache-mirroring.
Existing ISE customers can install an iglu head in front of their ISE boxes and so add the data services functions.
With iglu X-IO is taking a major step forward, now being able to compete on a level footing with all-flash and hybrid arrays from other suppliers. You do get the feeling that X-IO is re-energised and going places.
The iglu Blaze product is available now in North America, priced from $103,000. ®