Three years in: Can Kurian heal sickly NetApp's woes?
Part one of El Reg's Chris Mellor's deep probe into storage upstart
---
Profile After three years of flat and declining revenues, NetApp needs to regain its mojo and George Kurian is the CEO tasked with doing just that.
Kurian, a year into his CEO role, is running NetApp at a time when this external array company par excellence is facing numerous threats: rampant all-flash array competition, hyper-converged systems denying the need for external storage, public cloud attacking on-premises storage, software-defined storage looking to replace NetApp kit with commodity components, and on-premises external array competitors bringing new tech to the market faster.
All company CEOs profess a belief in team work and the company as community, but few walk that walk, talk that talk, and really, really believe it. George Kurian has journeyed a long, long way from a childhood in southern India to the Silicon Valley pinnacle of running NetApp, and his character has been honed by genes, family upbringing and experience.
He has a twin brother, Thomas, and the way they were raised, their education, and careers are closely intertwined, with Thomas now President of Product Development at Oracle, reporting to chairman and CTO Larry Ellison, and a 20-year veteran at the company.
George and his twin were born to P.C. Kurian and his wife Molly in a village called Kothala near Pampady in the southern India state of Kerala.
Kurian senior was a chemical engineer and the general manager of Graphite India.
The twins were the youngest of four brothers, and were raised in a Christian household. Their mother was quite strict and insisted on a disciplined approach to life.
As their father's career involved moving around India, the twins boarded at the Jesuit-run St Joseph's Boys High School in Bengaluru, capital of the neighbouring Karnataka state, and both progressed to the Indian Institute of Technology Madras (IITM), India. There they both took SAT tests and sent the results to various colleges, including Princeton University, which liked them so much that both were offered partial scholarship places.
Their family decided to cover the costs of this and in 1986, six months after entering IIT and aged 17, they left India and went to Princeton in New Jersey, America. They took part-time jobs to help cover their living expenses there. Both studied electrical engineering and George gained a BSc, Thomas a BA with the highest, summa cum laude, distinction.
After leaving Princeton, George joined Oracle while Thomas went to work at McKinsey & Company, the management consultants. They both studied and qualified for MBAs at the Stanford Graduate School of Business, Thomas first, and then George, with each helping to defray the other's expenses.
Thomas joined Oracle in 1996 after George joined McKinsey in 1995. A timeline table outlines this history and what happened next:
George Kurian timeline
1968 – born with twin Thomas in the state of Kerala in India
1976-1993 – Education

1976 or so – St Josephs Boys High School in Bengaluru, India
1985 – Indian Institute of Technology Madras, India, for 6 months
1986-1990 – Princeton, gaining Bachelor of Science degree in electrical engineering

1990-1995 – Oracle, progressing from coder to Senior Manager in Engineering
1993-1995 – MBA in General Management at Stanford
1995-1999 – Senior Engagement Manager at McKinsey & Company
1999-2002 – VP of Product Management and Strategy at Akamai
2002-2011 – Cisco

2002 – VP and GM Video Networking BU
2005 – VP and GM of Application Delivery BU
2009 – VP and GM of Application Networking and Switching Technology Group

2011-present – NetApp

2011 – SVP in Software Group
2013, September – EVP for Product Development
2015, June – CEO of NetApp
George Kurian spent four years at McKinsey, then three at content delivery network company Akamai, running product management and strategy. He used this experience to join Cisco, spending eleven years there in VP and general management roles in video, application networking and switching technology.
This is a guy with a lot of networking experience, 15 years, who then jumped sideways into storage supplier NetApp, becoming the SVP of its software group, then EVP for product development and then, after chairman and CEO Tom Georgens was found wanting, gained the top slot in June last year.
All-in-all it looks like a textbook career example of corporate ladder climbing by a sharp and smart, hard-working guy. How is he doing?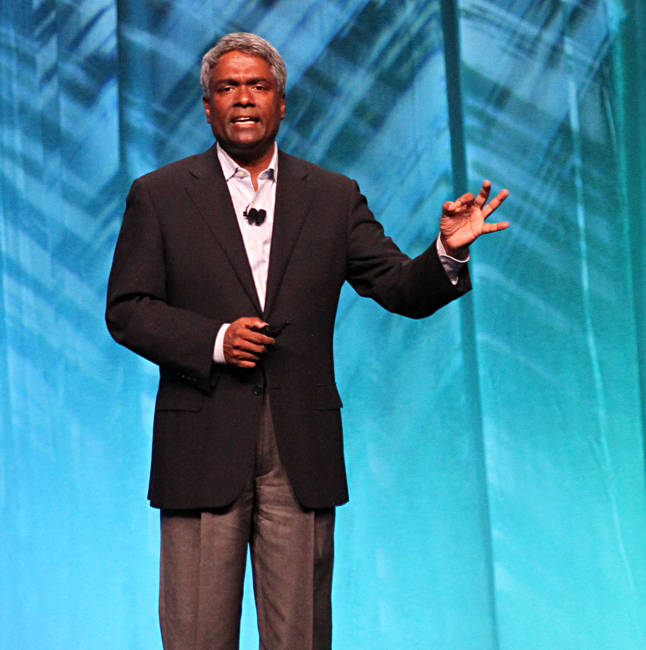 NetApp CEO George Kurian making a point
The headline events of his reign have been the closing down of the in-house FlashRay all-flash array development, the purchase of SolidFire, and laying off 1,450 people. That's three hard decisions made to start sorting out a technology issue, and a business problem. What sort of person is Kurian and has he got what it is going to take to wrest NetApp back onto a growth path?
In part two of this profile, El Reg interviews George Kurian at NetApp's Sunnyvale HQ to find out. ®