This article is more than 1 year old
VMware goes back to its future with multi-cloud abstractions
Virtzilla's going to bet you've got server sprawl all over again, this time in the cloud
VMware will apply its core skill – taming ill-defined pools of computing resource – to multiple clouds, in a new effort called Cross-Cloud Architecture.
CEO Pat Gelsinger will shortly take to the stage at VMworld 2016 and explain that clouds have re-created the problem that server virtualisation solved so effectively in the mid-to-late 2000s. VMware feels that cloud users often take the second-cheapest option by paying up-front at a flat monthly rate, but then don't use all the resources they've paid for. Different clouds also become silos between which it is hard to move data or applications.
VMware fixed very similar problems in its early days. Cross-Cloud will attempt to do so again, across public clouds. It's a technology preview for now, but the intention is to make Cross-Cloud Software-as-a-Service and to touch as many clouds as possible.
Users will be able to move workloads and data among clouds, with NSX making sure networks come along for the ride. Or feel like they've come along for the ride, anyway.
VMware's preview of Cross-Cloud cloud was skimpy: we'll learn more once VMworld kicks off in earnest tomorrow.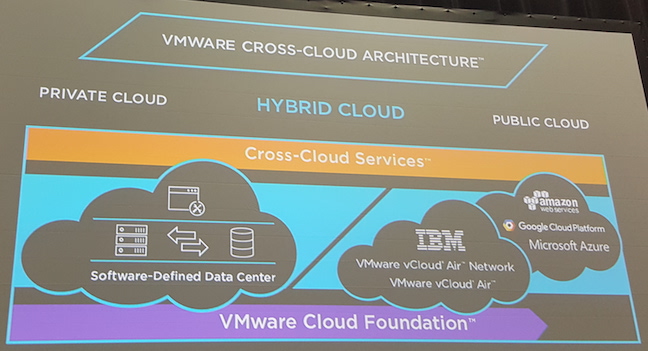 VMware's Cross-Cloud Architecture vision
When it does, we'll also learn that VMware has cooked up a new thing called "Cloud Foundation" that bundles vSphere, NSX and VSAN, with vRealize in the mix, to power a cloud-like portal for provisioning and managing on-premises IT and hybrid clouds.
The software will even try to offer a pay-as-you-go or operational expenses model to internal users, an update to VMware's long-held enthusiasm for charge-back to business units.
VMware's been evolving this stuff for a few years now, with vSphere becoming progressively less arcane. But clouds – and VMware rivals like Nutanix, Simplivity and Cisco – stopped being arcane years ago.
Importantly, there's not necessarily anything new on the end-user side of Cloud Foundation. Cloud operators get a new toy called VMware SDDC Manager, a core component of VMware Cloud Foundation, helps customers and service providers automate the deployment and management of VMware cloud software.
SDDC Manager that can manage Virtzilla's whole stack and it's expected that service providers will be the first to adopt it. IBM will offer it as a service. SDDC Manager can hook into existing on-premises vSphere rigs, or span both ends of a hybrid cloud if an organisation chooses to deploy it on-premises.
VMware promises '6-8x reduction in time to deploy cloud infrastructure" with the tool.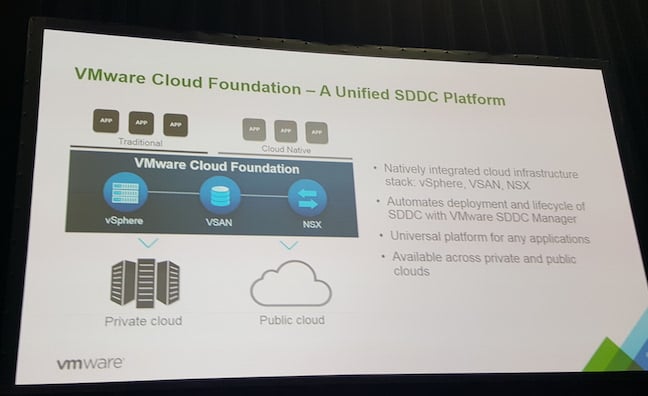 VMware's Cloud Foundation vision
Those are the day one headline announcements. The Register's virtualisation desk finds itself a little underwhelmed by Cloud Foundation, which sounds like an evolved hybrid cloud that catches up to an experience users have come to expect, while also making it plain that VMware's vision is that hybrid cloud means running (and buying) vSphere and NSX and VSAN. The good news is that VMware has learned the mess it made when it insisted buying its EVO:RAIL hyperconverged appliance would mean buying new licences, so this time you'll be able to bring your existing licences into Cloud Foundation.
Cross-Cloud looks interesting, for two reasons. Firstly, it solves an evolving problem. Secondly, Dell trademarked cross-cloud, not VMware. Yet the EMC/Dell deal has not formally concluded. Ponder that, legal types. ®