Fancy that – flash-loving HPE is getting into big tape boxes. It's extending its high-end tape portfolio by reselling SpectraLogic tape libraries.
The Spectra products involved are the T950 and TFinity ExaScale Edition, one of, if not the largest tape libraries in the industry. We're told this will drive down long-term storage costs to under $0.01/GB.
HPE has a line of tape libraries and tape media in its StoreEver portfolio. It has not been able to offer extreme high-end tape library storage until now, leaving that to IBM, Oracle, and SpectraLogic. For it to set up this reseller deal there must have been significant encouragement from its customers and perceived market demand for on-premises archival storage on tape.
IDC says HPE is the biggest tape systems seller in the industry.
Spectra says the relationship with HPE will:
Deepen its exposure in the high-performance computing market 
Give it a wider global presence in the video surveillance market
Complement its existing partnership with SGI (which is being acquired by HPE)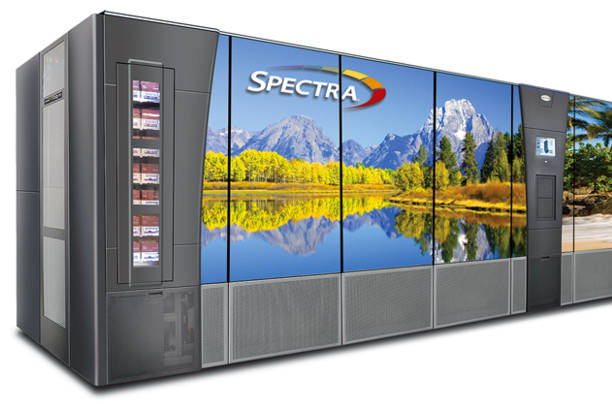 SpectraLogic TFinity library
The new Spectra Enterprise Libraries utilising LTO, TS, and T10000 tape technologies are available now starting at $112,000 list price for the zero-drive library option. ®
Similar topics