Sure, HoloLens is cute, but Ford was making VR work before it was cool
Elizabeth Baron found genuine use for virtual reality in the design process
---
Are they heavy? Then they're expensive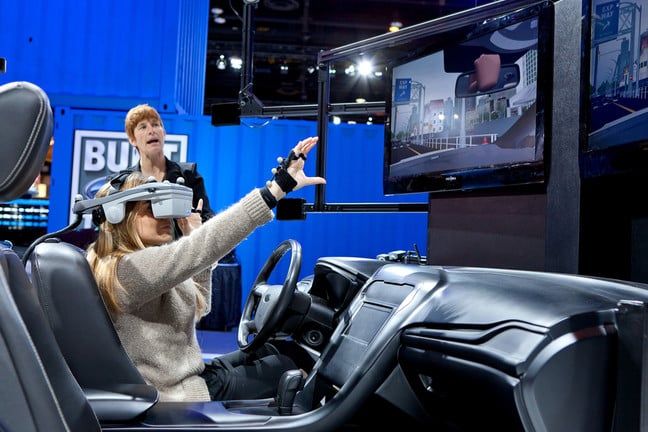 A Ford employee demonstrates a new virtual reality technology at the 2012 Chicago Auto Show Media Preview on February 9, 2012 in Chicago, Illinois. Pic: Darren Brode / Shutterstock
Step one: create a virtual car. That wasn't as easy as it sounds. Twenty years ago, all the optical tracking we take for granted today (even our smartphones can do it) lay on the other side of ten iterations of Moore's Law, and a thousandfold improvement in computation.
Heavy head-mounted displays, generally pricey and mil-spec, required integration with baroque motion-tracking systems that employed sensors moving through magnetic fields.
That sounds simple enough until you remember cars are generally made of steel, a material that has a tendency to block or warp magnetic fields. Baron talked some of Ford's more artisanal craftsmen into building her a fully adjustable vehicle prop – out of wood. What appeared a step backward in materials meant a great leap forward in technology, because now Baron could invite an automotive designer into her "studio" – tucked away in an overlooked corner of a Ford facility – and give them an experience of their proposed designs from the perspective of both a 4ft 7in woman and a 6ft 4in man, simply by modifying the dimensions of that magically modifiable prop – complete with steering wheel and cupholder.
That was the first time anyone at Ford had a real sense of the value of simulation as a design aid – a conclusion Baron had already come to, but one she had struggled to demonstrate. But demonstrate it she would, again and again and again over the following years, finding design questions that required her particular expertise and tools.
"The majority of folks at Ford weren't convinced of the value of simulation," Baron told me in a recent interview. "They'd tell me: 'If it could do X, that'd make my job easier.' So I'd work with them to solve that specific problem."
"I'd look for the problems that were hard to solve any other way. Create a solution. Document it as a use case. Then move on to the next problem. Eventually, I had a big spreadsheet with solutions."
A classic example in automotive design – where do you put the radio knobs? "I'd create a simulation, so the designer could have a look around, and show them the three options they'd need to decide between," Baron said. She tracked their hands in the simulation. "They could reach out – and feel whether a particular placement worked."
Baron had arrived at a genuinely new way to think about automobile design – as one element within a broader a visualisation process – and gave designers the capacity to quickly confirm or trash their design decisions. At the time, an automobile would take five years from conception to manufacturing, and the millions of design decisions involved could never be fully inspected or tested until it was too late to make meaningful changes. Difficult dashboards, door latches and instrumentation weren't intentions – they simply couldn't be corrected in time.
Even with this huge win for designers, Ford was cautious about building up its reservoir of virtual technique. "There was a sense from Ford leadership that this tech was coming – someday," Baron recounted. "They invested just enough to stay ahead of the curve, and mostly that was just me, working on this until I got another person – full time – in 2003."
If that seems unnecessarily parsimonious, it should be remembered that automobile manufacturers run lean – particularly in the wake of the global financial crisis, when Ford's US competitors both went bust.
Another Ford employee told me about her brand new position and 40-year-old office furniture. These are not the anything-goes playgrounds of Google and Facebook. Tech is deployed sparingly, and only when it solves a specific business problem.
Which problems best fit Baron's simulations? "I'd look for the problems that were hard to solve any other way. Create a solution. Document it as a use case. Then move on to the next problem. Eventually, I had a big spreadsheet with solutions," she told The Reg.
By 2007, Ford had begun to shift its design strategy toward virtual-physical simulation, lead by an exploding tech sector delivering high-performance GPUs and high-resolution displays, and an innovative if not somewhat low-tech adjustable prop (complete with a Hollywood-style prop department) adding controls and displays to the car or truck being simulated – just the right constellation of advances to move the needle on simulation from "way too hard" to "can it help?"