Curiouser and curiouser: Quasi NVDIMMs, GDPR-tastic SaaS and more
Behind the looking glass in Storage-land
---
"The time has come," the roundup read, "to talk of many things: Of caching tech – and Optane drives – of in-memory computings..."
A lot has happened in storage over the past week. Viking Tech introduced an NVDIMM-like 2.5-inch persistent memory drive; Sphere3D sold off Overland; HPE's SimpliVity moved onto Azure; and Violin bagged a reseller offering an "arsenal of transformative solutions".
There's more. Carbonite and Dropbox have reported an uptick in revenues in their respective Q1 2018 results. Spoiler alert: "history of net losses" DropBox continued on that theme. Also, bare-metal cloud service provider Packet is pushing Optane drive access through its cloud and data warehouse cloud supplier Snowflake said its first foray into Europe has been fruitful.
Hazelcast
In-memory data gridder Hazelcast announced that Open Liberty will be using Hazelcast IMDG as its preferred caching provider for a session replication module it has developed based on JCache.
JCache is a Java Specification Request (JSR) which specifies API and semantics for temporary, in-memory caching of Java objects, including object creation, shared access, spooling, invalidation, and consistency across JVM's. Hazelcast is one of the industry's first JCache providers and its CEO/CTO, Greg Luck, has been the co-specification lead on JSR 107 since 2007.
JCache accelerates mainstream adoption of in-memory computing by giving all Java developers an easy band standard way to access memory from within Java.
End-user apps will use OpenLiberty, which uses Hazelcast's IMDG as its JCache session replication module for temporary, in-memory caching of Java objects, including object creation, shared access, spooling, invalidation, and consistency across Java virtual machines. Complex doesn't begin to describe it.
Greg Luck, CEO of Hazelcast, said: "Web applications use sessions to store application state usually tied to that user's browser session. Session replication is a high availability feature that allows another application server to continue the user's browser session without interruption.
"OpenLiberty is using JCache for its session replication backed by Hazelcast IMDG. Both are Apache 2 open source."
Hazelcast said its product is used in tens of thousands of installed clusters and over 55 million server starts per month.
Nutanix
Coming away from the .NEXT conference, William Blair Analyst Jason Ader said Nutanix management has a $3bn software billings goal in 2021 (up from $20m in fiscal 2013). It's a very ambitious goal – only a dozen or so software companies have achieved it so far.
Wells Fargo senior analyst Aaron Rakers said Nutanix discussed coming object-based storage support for the Acropolis hypervisor and multi-cloud app mobility – focused on moving cloud native VMs/applications to on-premises.
Rakers suggested Dell now has over 1,800 XC Series customers, up from 1,200 roughly a year ago (vs +1,000 in September 2016) and more than 20,000 nodes deployed (vs +14,000 a year ago).
Also, IBM highlighted continued momentum for its Power-based Nutanix offerings, with multiple customer reorders.
HPE Simplivity
HPE announced a SimpliVity 380 hyperconverged product with Microsoft Hyper-V support, and said it has become a Citrix WorkSpace Appliance Partner.
Previously the SimpliVity 380 was a vSphere-only zone.
The Hyper-V-supporting SimpliVity 380 is now in the Citrix HCI Workspace Appliance Program as a pre-integrated and pre-tested product.
It is also immediately available from HPE and HPE global partners.
Packet
Packet, a bare-metal cloud service provider, said it will provide on-demand access to a fleet of Xeon servers with large format Optane technology at no cost. That means DC P4500 and P4800X Optane drives.
It should provide an easy way for open-source and commercial software projects to benchmark and optimise Optane tech.
You can find more information here. Accelerate with Optane is managed by Packet, with support and partnership from Intel, and you have to request access.
Sphere3D
Sphere3D's first 2018 quarter saw revenues of $19.4m, down 10.6 per cent on the year-ago $21.7m. There was a net loss of $7.8m, the same as a year ago.
Disk systems revenue in the quarter was $13.1m, compared to $15m a year ago. Disk systems is defined as RDX, SnapServer family, virtual desktop infrastructure, and Glassware derived products. Tape archive product revenue was $4.3m compared to $4.4m a year ago. Service revenue was $2m compared to the year-ago $2.3m.
Sphere3D closed a public offering which raised $2.3m gross. The next big event is the 31 May special meeting to vote on the Overland business unit sale to a special vehicle company set up and run by Sphere3D's current chairman and CEO, Eric Kelly. After that we will see if there is any value left in Overland or if, like Sphere3D before it merged with Overland, the value is a mirage.
Our records show Overland on its own and then the combined Sphere3D/Overland – a 2014 merger – business reporting eight years of losses, 32 consistent loss-making quarters. The company may not be able to walk on water but strutting its stuff across a sea of red ink is no apparent problem.
StorMagic
StorMagic, which supplies hyperconverged systems, has an edge appliance designed for Citrix Workspace Service plus direct connectivity to the Citrix Cloud. It uses Cisco infrastructure with Citrix technology.
StorMagic and Cisco have validated Citrix Cloud workloads on Cisco Integrated Services Routers (ISR 4000s) with UCS E-Series blade servers, in a 2U footprint.
It's suited for remote or branch sites that require virtualized user desktops and/or remote access management capabilities to run on-premises instead of in a corporate data centre. Citrix Workspace workloads that need to run at the edge can be deployed on a StorMagic, Cisco and Citrix workspace appliance and managed directly from the Citrix Cloud.
The joint offering has been tested and validated as Citrix Ready.
Viking Technology
Sanmina subsidiary Viking Technology has announced VT-PM8 and VT-PM16 persistent memory drives; 2.5 inch U.2 NVMe PCIe Gen3 drives built with architecture from Radian Memory Systems. They are roughly similar to NVDIMMs and built with DRAM, NAND and on-board super-capacitor power.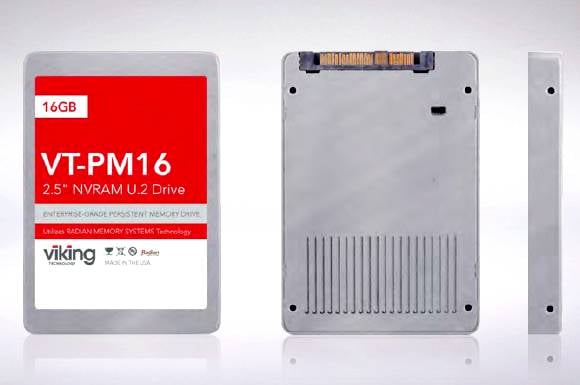 Viking Technology V-PM16 persistent memory drive
They are hot-swappable, unlike NVDIMMs, and come in dual port (2x2) or single port (x4) modes, with dual-porting making them suitable for high-availability apps. Other use cases are said to be metadata storage, read/write logging, database read logs, and journaling.
They are claimed to deliver performance and unlimited write endurance similar to that of DRAM, along with data persistence. Viking said that, by offering persistent memory with the iNVMe interface, customers can access memory via normal block or programmed I/O byte addressable access, without special firmware or hardware requirements.
Shorts
The newly energised and partner-seeking AFA-shipping Violin Systems said that information technology and services expert VDX added its Violin Flash Storage Platform to its, wait for it, "arsenal of transformative solutions". Another reseller win in other words.
Backupper Acronis says it had a 200 per cent year-on-year increase in protected devices and 151 per cent y-o-y growth in the number of protected corporate clients. Acronis's cloud storage consumption now totals 39PB. During the past year, Acronis added more than 2,000 new service providers that offer backup, disaster recovery, and file sync and share services using the Acronis Data Cloud platform.
Cloud data protection supplier Carbonite reported Q1 fy2018 revenues of $64m, up 12 per cent on the year-ago's $57.1m. Net income was $11.9m, up 56.6 per cent on last year's $7.6m. Carbonite bought Mozy from Dell in February for $145.8m.
DCIG has announced the availability of its 2018-19 Enterprise General Purpose All-flash Array Buyer's Guide – a 72-page report looking at 38 enterprise-class all-flash arrays from nine vendors: Dell EMC, Hitachi Vantara, HPE, Huawei, IBM, Kaminario, NetApp, Pure Storage and Tegile.
File sync and sharer Dropbox reported Q1 2018 revenues rising 28 per cent year-on-year to $316m. Consequent on recent US business tax changes there was a monster net income loss of $466m compared to $34m in Q1 of last year.
OwnBackup announced the availability of its General Data Protection Regulation (GDPR) readiness offering for Software as a Service (SaaS) data backups.
Data warehouse in the cloud supplier Snowflake has been talking about its first tear in Europe, and claimed it scored 130 new customers in nine countries, including Capital One and Deliveroo. In the first 2018 quarter its EMEA revenue has doubled compared to all of 2017. It opened four European offices, Paris, Munich, Amsterdam and Stockholm, and has grown to 34 employees. ®
Similar topics
Broader topics