This article is more than 1 year old
US govt mulls snatching back full control of the internet's domain name and IP address admin
ICANN or ICANN'T be trusted? Uncle Sam wants to know
The US government has formally asked whether it should reassert its control of the internet's administrative functions, effectively reversing a handover to non-profit organization ICANN two years ago.
"Should the IANA Stewardship Transition be unwound? If yes, why and how? If not, why not?" reads one of 23 questions that the National Telecommunications and Information Administration (NTIA) has put into a formal notice of inquiry [PDF] published on Tuesday in the Federal Register.
In effect, should Uncle Sam regain ultimate control of IANA – the ICANN department that oversees the planet's domain-name system, IP address allocation, and network protocol number assignments? All three functions glue together the global internet as we know it today. ICANN took full stewardship of IANA in 2016.
The question is part of a broader effort to seek input on what the US government's role and priorities should be when it comes to internet policymaking, but its inclusion is still extraordinary given how controversial such a reversal would be.
It's not clear whether the question was included as part of an implicit promise from NTIA head David Redl to look into the transition, or whether it has been included in light of recent events, in particular the disastrous attempt by ICANN to retain the Whois service in the light of European privacy legislation.
Senator Ted Cruz (R-TX) held up Redl's confirmation last year over the IANA transition (Cruz was a notable critic of the move) and Redl referenced [PDF] the incident at a recent oversight hearing with the House technology subcommittee in March.
Saying he wanted to "clear the air" over his views of the IANA transition, Redl stated at the hearing that "it would be very difficult to put the genie back in the bottle on ICANN," and argued that the process was complete.
But he also noted that he had "committed to a process to looking at these things as agencies are supposed to, to ask questions and seek expert input and formulate an opinion of the administration based on feedback from experts in their fields."
Coiled spring
Even accounting for that commitment, nobody expected the question to be as blunt as "should the IANA Stewardship Transition be unwound?" – which risks exploding what most feel is a settled matter.
More likely is that the NTIA is using its notice of inquiry to put pressure on ICANN, which has performed poorly since it was granted autonomy in September 2016, particularly in recent months where it has repeatedly tried and failed to assert its authority.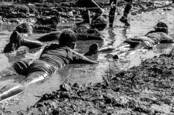 Domain name sellers rub ICANN's face in sticky mess of Europe's GDPR
READ MORE
It is notable that Whois is mentioned in the very first paragraph of the NTIA's official announcement of the notice of inquiry but is not specifically mentioned in the actual notice itself.
"We are working on a number of issues, from protecting the availability of Whois information to pushing for more effective membership oversight of the International Telecommunication Union," the announcement reads. "As we look to further build out our international agenda, we want to hear from stakeholders about the critical global policy areas we will face this year and beyond."
The Whois/GDPR issue also warrants further mention in one of the four main policy points flagged in the announcement: "Within ICANN's Governmental Advisory Committee, NTIA has been working on issues related to preserving access to Whois domain name registry services in light of the European Union's General Data Protection Regulation (GDPR). Are there any other activities related to the domain name system that NTIA should pursue?"
Freedom of expression
The questions contained in the actual notice of inquiry, to which all stakeholders are invited to offer their thoughts, only obliquely reference Whois by asking "What are the challenges to the free flow of information online?" and "Which foreign laws and policies restrict the free flow of information online?"
But those questions could just as easily apply to a whole range of issues and further questions appear to tie them to the issue of freedom of expression – which has nothing to do with the Whois service that lists the personal details of domain name holders.
A second set of questions on the so-called "multistakeholder" approach to internet governance – of which ICANN is the most prominent example – read like a veritable invitation to list the failings of the Californian non-profit since it was granted autonomy.
Does the multistakeholder approach continue to support an environment for the internet to grow and thrive? If so, why? If not, why not?
Are there public policy areas in which the multistakeholder approach works best? If yes, what are those areas and why? Are there areas in which the multistakeholder approach does not work effectively? If there are, what are those areas and why?
Are the existing accountability structures within multistakeholder internet governance sufficient? If not, why not? What improvements can be made?
Those questions read like implicit criticism of ICANN and its notorious lack of accountability and are followed by the striking: "Should the IANA Stewardship Transition be unwound? If yes, why and how? If not, why not?"
Coming up next
The notice of inquiry comes several months before the 2018 ITU Plenipotentiary Conference in Dubai in October, held every four years, and the annual Internet Governance Forum (IGF) that is expected in Paris in November – although at the time of writing, it has yet to be confirmed.
The notice of inquiry will offer US-based organizations an opportunity to give their first official scorecard on how ICANN has done on its own without US government oversight. Given the organization's handling of Whois, and a series of highly critical reports into its actions by its independent review panel (IRP), it is unlikely to prove pleasant reading for the organization.
But even if the criticism is overwhelming, it is hard to imagine that the US government would seriously consider pulling the IANA contract back under its purview: it would face enormous pressure from internet organizations and other governments and such a move would risk fragmenting the internet's global addressing systems. ®