This article is more than 1 year old
Apple hit with another faulty hardware lawsuit – this time it's the Watch
Swelling batteries causes headache for Cupertino
Apple has been hit by another lawsuit claiming faulty manufacturing, this time over its Apple Watch.
Kenneth Sciacca from Colorado has sued the tech giant in its home state of California claiming that Apple was aware of an issue in all the generations of its smart watch that can cause its screen to crack or detach, through no fault of the owner.
"Apple knew that the Watches were defective at or before the time it began selling them to the public," claims [PDF] Sciacca, who wants $5m from Apple and is looking for others to join the lawsuit. "Furthermore, consumers complained to Apple about the Defect almost immediately after Apple released the Series 0, Series 1, Series 2, and Series 3 Watches."
Just as with the lawsuits currently ranged against Apple for its "butterfly" keyboard on the most recent MacBook Pros where the keys fly off and are difficult to replace, requiring consumers to pay Apple technicans to fix them, Sciacca notes that "consumers began to complain that the screens on their Watches were spontaneously detaching from the body of their Watches" shortly after the initial launch of the Apple Watch in April 2015.
The company of course denied it was a problem because – as everybody knows – Apple never makes any mistakes and never does anything that isn't 100 per cent perfect or intentional.
But, Sciacca notes "in April 2017, Apple acknowledged a swelling battery defect in certain Series 0 Watches and extended its Limited Warranty for qualifying Series 0 Watches from one year to three years."
Extension
That's true. Apple did decide last year to extend its normal one-year limited warranty for an additional two years in response to reports that batteries were swelling and causing the watch to pop apart.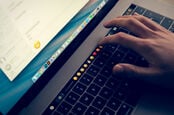 Apple MacBook butterfly keyboards 'defective', 'prone to fail' – lawsuit
READ MORE
That extended warranty was only for first-generation Apple Watches. Some users reported the back of their devices had come off; others reported the screen popping off. And Apple replaced everything for free. But then, in April this year, it expanded that additional coverage to include second-generation watches as well.
Those warranties have only been about swelling batteries and the back or front coming off; Sciacca is claiming that the same issue can cause screens to crack. And while there is no shortage of people claiming that their Apple Watch screen cracked for seemingly no reason at all, it is not impossible to imagine that in many cases it was the user, rather than a swelling battery to blame.
The lawsuit's case – and possible success – is based on an assertion that Apple not only knows about the issue but also "actively concealed and failed to disclose the Defect to Plaintiff and Class members prior to, at, or after the time of purchase."
It goes further too, asserting that Apple is deliberately misleading customers through an "internal policy to deny the existence of the Defect, claim the Defect is the result of 'accidental damage' caused by consumers, and then refuse to honor its Limited Warranty on those grounds."
Detached
Sciacca's specific beef is over a Series 2 Apple Watch that he bought in December 2016 from an Apple Store in Colorado Springs, Colorado.
Just over a year later, in March 2018, the watch screen "unexpectedly detached from the Watch's body shortly after he removed the watch from its charger." So he took it to an Apple store where he was told it wasn't as a result of a swollen battery and so wasn't under warranty. He was quoted $249 to repair it.
Sciacca claims he took extremely good care of the watch and so was sure he wasn't to blame for the problem. He started searching repair forums and found what looked like dozens of other people having the same issue – and has included a number of those complaints in his lawsuit.
In short, he is convinced Apple knows about a problem that it is keeping from customers, insisting that it is their fault rather than an issue in its own manufacturing processes.
An initial case management court date has been set for September 9. ®