The city of Seattle is moving to strike its plan to tax large businesses and use the money to address the Emerald City's chronic homelessness problems.
Mayor Jenny Durkan announced on Monday night the city was already considering legislation that would overturn its earlier decision to impose a headcount tax on large businesses, with the money earmarked for housing and services for the city's growing homeless population.
The announcement comes just three weeks after Seattle's city council unanimously passed the law.
"In recent months, we worked with a range of businesses, community groups, advocates, and working families to enact a bill that struck the right balance between meaningful progress on our affordability and homelessness crisis while protecting good, family-wage jobs. Over the last few weeks, these conversations and much public dialogue has continued," Durkan said in announcing the hasty retreat.
"It is clear that the ordinance will lead to a prolonged, expensive political fight over the next five months that will do nothing to tackle our urgent housing and homelessness crisis."
The headcount tax, which was aimed primarily at the city's largest employers (companies grossing less than $20m a year were exempt), was loudly opposed by Amazon, whose main headquarters are located in Seattle.
The online retail giant had threatened to halt construction on new buildings in Seattle, but later backtracked and resumed work. At the same time, according to Citylab, the Bezos Bunch was pouring money into a campaign that set up a November ballot measure to revoke the law.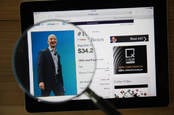 I've got way too much cash, thinks Jeff Bezos. Hmmm, pay more tax? Pay staff more? Nah, let's just go into space
READ MORE
Now, it seems, things won't even get that far as the city council is poised to strike down the law itself.
"We know that there are strong passions and genuine policy differences between neighbors, businesses, community leaders, and people across our City on how to best address our housing and homelessness crisis," Durkan said.
"This crisis has been years in the making and there are no easy solutions."
The saga may also serve as a word of warning to the handful of US cities who have been courting Amazon for the rights to host its planned HQ2 facility. Experts have warned that cities who bend over backwards to give Amazon tax breaks won't be getting a good deal, and if the recent saga in Seattle is any indication, they shouldn't expect to extract money from the corporate giant through other measures either. ®