WOS going on? DDN ejected from IDC object storage marketscape
Cue raised eyebrows – Cohesity and SUSE enter
---
IDC has cast its eyes over object storage suppliers, and ejected DDN from its marketscape, brought in Cohesity and Cloudian, and shuffled around a few suppliers.
The previous object storage marketscape was a December 2016 exercise so we've had to wait 18 months for this new one, issued this month. Here's the crucial chart – click for a larger version: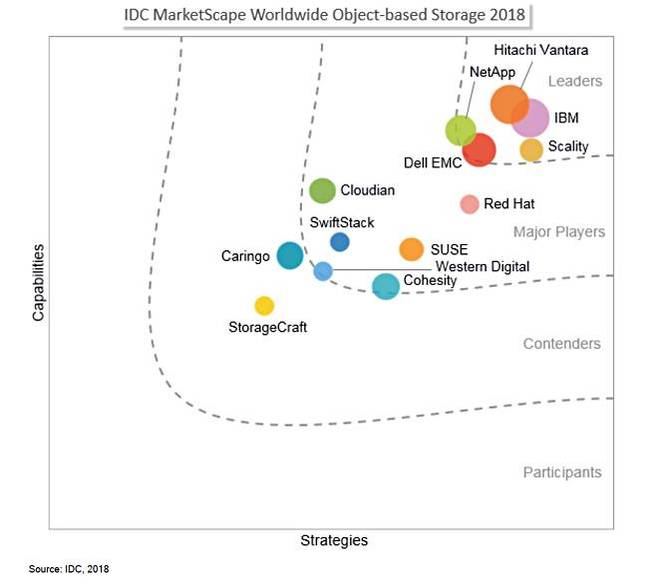 The previous marketscape is below for comparison: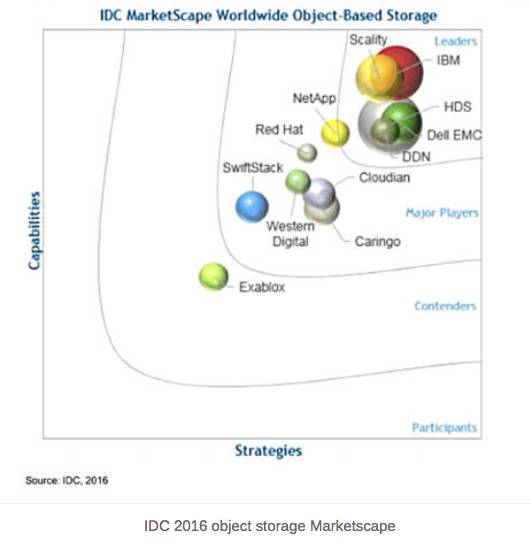 We can immediately see DDN, with its WOS product that was a 2016 leader, is now nowhere. It gets an "honorable mention" in IDC's report, however, there is no explanation of this change in status at all. We've asked IDC and DDN for their thoughts. Neither has been able to get back to us yet.
IDC said in 2016 that a supplier's capabilities and strategies were equally weighed in its analysis, however, now it rates strategies more highly than capabilities. Why? IDC said several suppliers have partnered with public cloud storage service providers to support multi-cloud initiatives and a wider workload range. So, 2018's IDC object storage marketscape gives more weight to strategy than capability."
Scality's position has changed: it is further along the strategy axis than the capabilities axis in 2018 compared to 2016. Red Hat has moved in the same general way within its category.
To be included in the mix, a supplier's product should be generally available and with revenue greater than $20m. The supplier list is: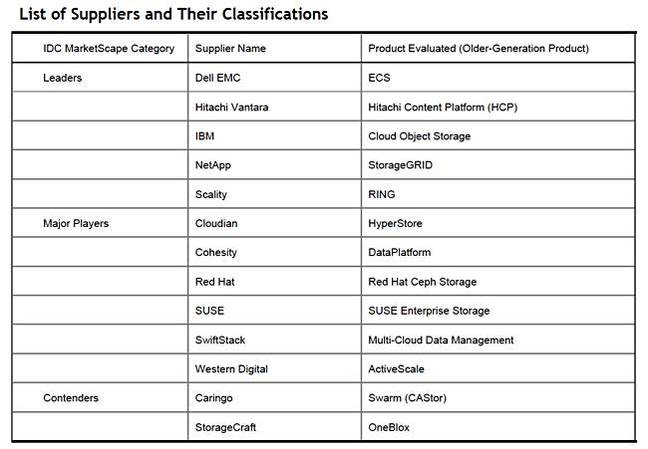 The SUSE product, like Red Hat's, is Ceph-based.
Caringo has fallen back from being a major player to being a contender. IDC suggested it loses sales because it can't compete effectively when sales cycles are long.
IDC's inclusion of Cohesity is eyebrow-raising. The analysts said: "Cohesity's DataPlatform is a distributed file system that consolidates all unstructured data, including backups and archives, files and objects, test and development, and analytics workloads on a single web-scale solution ... [and] reads/writes to the same data volume with simultaneous multi-protocol access for NFS, SMB, and S3."
Yet, Cohesity is not known as an object storage supplier, and doesn't market its DataPlatform as object storage kit. IDC admitted: "Cohesity is known for its data protection capabilities more than its object and file capabilities."
The beancounters suggested "the company should consider the broader use cases the product can support across file and object use cases and market accordingly."
Dell EMC has fallen back due to Dell acquiring EMC, and the resulting integration issues "caused a brief lull in [ECS] field execution."
StorageCraft acquired Exablox, and has inherited its position.
IDC mentioned "SUSE's recent entry in the OBS space makes for fierce competition with existing OBS suppliers."
In summary: for this marketscape, is DDN out, and Cohesity – surprisingly – and SUSE are in. ®