This article is more than 1 year old
Hang on, don't go out yet – wait till IBM's done swinging its storage announcements around
Preps mainframes, mid-range arrays, tape and cloud... and that's just to offload all this data
IBM has fired a broadside of announcements at the storage world. The gist? Flash arrays get more capacity and NVMe-over-fabrics has been added to a slew of arrays using Fibre Channel to speed data access.
DS8880F
This high-end array has new flash modules with doubled capacity; 737.3TB compared to previous 368.6TB. Note that the improvement varies by model. Faster zHyperLink technology lowers read and write latencies.
Storwize V7000
The third-generation Storwize V7000 has integrated NVMe and a range of expansion options. Its Easy Tier automated data placement facility uses AI and predictive analytics to place data on an appropriate storage tier based on its access activity profile.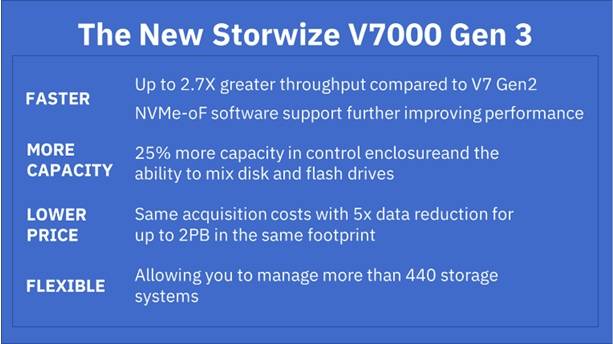 IBM said the new V7000 can manage a 2.7x increase* in maximum throughput for data-driven workloads with compression active.
It can be clustered with other V7000 arrays, new and old, to an upper limit of 32PB of capacity.
The NVMe support has been added to all Storwize arrays.
The new V7000 is available to order now and ships in December. IBM Cloud Object Storage software will ship in 2019 and support the V7000.
Speaking of Storwize, its arrays will in future only be sold by IBM's channel partners. It has been selling 30 to 35 per cent of Storwize products direct up until now. The VersaStack converged system is also a channel-only product.
Storwize V5010
This is a preconfigured entry-level midrange array with specific configurations – all-flash, entry package, popular package (disk), hybrid (flash/disk) package, and capacity package.
FlashSystem A9000R
There is a 40 per cent cheaper entry-level system that can concurrently operate high-availability HyperSwap and disaster recovery capabilities.
IBM said it intends to add some AI technologies to the A9000R next year to simplify capacity management with deduplication.
FlashSystem 900 and 9100
The FlashSystem 900 and 9100 capacity has been doubled with an 18TB module supporting up to 44TB effective capacity after compression, compared with 22TB for the previous module.
The FlashSystem 9100 is to get new NVMe-based FlashCore modules, which will also be made available for the Storwize V7000.
The new FlashSystem 900 has an improved user interface, better reporting of capacity. faster rebuilds, and other improvements.
NVMe over Fibre Channel
NVMe over Fabrics (NVMe-oF) extends RDMA speed access to external storage systems across network links such as Ethernet, InfiniBand and Fibre Channel. This enables direct access to drives, bypassing the legacy storage software stack and delivering sub-millisecond access latencies.
The FlashSystem 900 has supported InfiniBand NVMe-oF since February 2018.
IBM will add NVMe over Fibre Channel support, via a non-disruptive Spectrum Virtualize software upgrade, to the FlashSystem 9100, some deployed FlashSystem V9000s, Storwize V7000F/V7000, and SAN Volume Controller systems.
VersaStack converged systems with these products can get NVMe over Fibre Channel support as well.
The FlashSystem 900 can have NVMe over Fibre Channel support via a new 16Gbit/s adapter.
IBM Storage Insights
This is a cloud-based SAN management tool, using IBM Research technology. It is claimed to use AI technology to detect slow storage network performance and proactively alert IB support staff who would contact customers.
Spectrum Discover
Spectrum Discover, based on IBM Research technology, scans unstructured data and creates a catalog describing it; metadata in other words. It ingests, consolidates and indexes metadata for billions of files and objects. This metadata farm can be used for data analytics, governance and compliance. A Spectrum Discover API enables third-party products to access this metadata.
Spectrum Discover will support IBM Cloud Object Storage and Spectrum Scale by the end of 2019. In 2020 support for Dell EMC Isilon will be added.
AI Reference Architectures
IBM will create reference architectures for building systems combining IBM POWER servers with its storage for the AI/machine learning market this year, and add Nvidia GPUs to the architectures in 2019. These will accompany the AC922 POWER9 server, which has two to six Nvidia Tesla V100 GPUs.
IBM Cloud Object Storage
Policy-based WORM and lockable vaults are supported by small CD mode configurations. There can be sufficient vaults to support 1,500 separate environments.
IBM plans to add NVMe capability to IBM Cloud Object Storage software in SDS Configurations in 2019.
TS1160 tape drive
This is a new proprietary format drive which supports 20TB native capacity and better data transfer speeds. IBM said the previous maximum was 10TB, referring to the TS1150. The industry standard LTO-8 format supports 12TB raw. LTO-9 with 24TB capacity is expected next year.
IBM's TS1155 tape drive offered 15TB native capacity when it was introduced last year.
IBM's TS3500 and TS4500 tape libraries will support TS1160 drives.
Storage Utility Offering
This provides cloud-like, consumption-based pricing for on-premises IBM storage, calculated on monthly usage.
It enables the use of high-availability configurations from just 20 per cent more than a single system.
TS7760 virtual tape libraries are included in the Storage Utility Offering product set.
Storage Solution for SAP
This provides SAP HANA data protection with IBM storage, Spectrum Protect and Spectrum Copy Data Management.
The FlashSystem 9100, Storwize V7000 and Elastic Storage Server get SAP TDI certification.
2019 intentions
In 2019 IBM intends to add blockchain support to some storage products and make Spectrum Virtualize for Public Cloud available on Amazon AWS. Spectrum Scale is available on AWS already. ®
Bootnote
* Storwize V7000 Gen2+ with 24 flash drives and software compression compared with Storwize V7000 Gen3 with 24 FlashCore Modules using hardware compression.