This article is more than 1 year old
Is Oppo short for Opportunistic? BBK opens UK doors
A dubious slider and a bargain midranger. Forgotten the chocolates? We'll warn you now: Danger!
BBK Electronics brings its Oppo phones to Blighty today, meaning all three Chinese phone giants are now officially competing for Brits' affections.
Of the three – Xiaomi, Huawei and BBK – the latter comfortably sells the most phones in its native China, as it owns both the Oppo and Vivo brands. BBK also effectively "owns" OnePlus, too, described by Ben Wood of CCS Insight as "the pop brand of the BBK empire"; although OnePlus shares the same HQ building as BBK, it has considerable operational independence.
The Oppo range comprises two "new" devices: the RX17 Pro and RX17 Neo, and the UK introduction of the already-launched Oppo Find X, a phone with a pop-up camera on a motorised slider. Carphone, Currys Online and some 50 independent retailers will carry the models.

Oppo RX17 Neo
Carphone sells the Find X exclusively for now, and that pop-up novelty isn't cheap. It's a £799 6.4-inch flagship with 3D face recognition and 256GB of storage. Oppo has a history of novelty camera designs – see one we reviewed in 2014 – and the slider design means there's a high screen-to-body ratio and no cutout in the display. However, the slow mechanism adds about a second to taking a photo.
And there are some very surprising omissions for a flagship. The Find X lacks NFC so no contactless payments. A headphone jack, expandable storage and a IP67 rating are also absent. Even more strangely for 2019, it lacks a fingerprint scanner. You'll need to rely on the 3D face unlock, or revert to a PIN or password.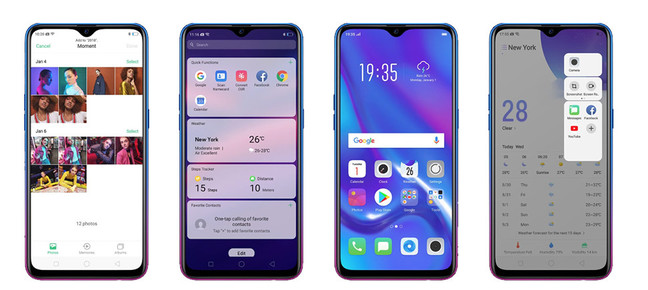 Oppo's 'Color OS' skin. Click to enlarge
The rather better value RX17 Neo (6.4-inch display, Qualcomm Snapdragon 660, £319) and RX17 Pro (£549) look more promising prospects in a market eager for bargains. All models feature a new fast-charging technology promising a full charge in 40 minutes, considerably quicker than rivals.
Full specs from Oppo here.
BBK originally launched the Oppo brand in 2001.
It's worth noting here – also according to Canalys – that Chinese smartphone vendors captured a record 32 per cent of market share in Europe in 2018. The analyst emitted some figures today that included market share dating back six years. Chinese companies took a 24 per cent slice of the Euro market in 2017, though four years before that – in 2013 – China shipped just 11 per cent of Europe's smartphones. ®