This article is more than 1 year old
Watching in slow motion as you turn around and say... Take my breath Huawei (with its updated storage silo software)
Deduplicating, I keep waiting, still anticipating your PR shove
While fending off America's accusations that it backdoors its gear for Beijing, Huawei has upgraded its FusionStorage software to v8.0 in hope of providing all the different storage resources a data centre needs from one silo.
FusionStorage is a scale-out, distributed system which integrates the local storage resources of up to 4,096 x86 servers into distributed storage pools, to provide multi-protocol resources to applications. It claims six "nines" reliability; 99.9999 per cent, self-adaptive deduplication and compression capabilities, asynchronous replication technology and a latency as low as 0.5 milliseconds.
Huawei reckons customers want a single storage resource covering all their storage needs, from background applications to mission-critical applications. It claims v8.0 is the first distributed storage system in the industry to support critical enterprise workloads and achieve a "one data center, one storage" goal.
V8.0 FusionStorage supports block, file, object, and, newly, HDFS, and database protocols. Here's how it all glues together: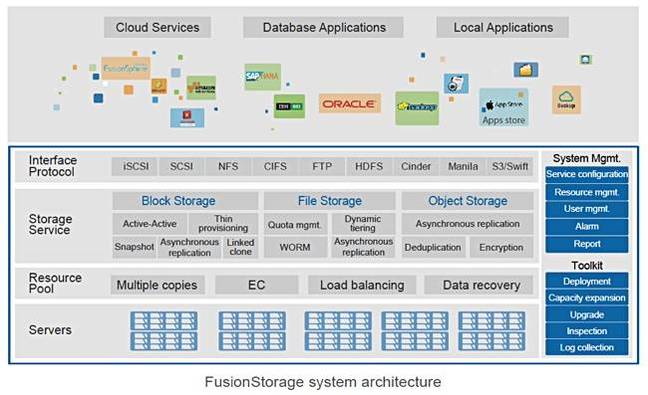 Click to enlarge
Meng Guangbin, Huawei's president of the intelligent storage and data management domain, boasted, "The next-generation FusionStorage 8.0 leverages convergence across five dimensions to remove the barriers between enterprise data." And we know you're just dying to find out what those five dimensions are, so:
Support of both core and emerging enterprise applications.
Data lifecycle management from generation, usage, and management, to backup and archiving.
Integration of edge, private, and public clouds on one platform.
Converged management.
One-stop deployment through converged protocols.
Huawei says the Internet of Things (IoT), 5G, cloud, artificial intelligence, and other technologies pose scalability and management challenges to traditional centralised storage with silo-like deployment. It would have you understand FusionStorage unifies these silos and is the Lord of the enterprise data centre Storage Rings.
You can check out a general FusionStorage description here if you're so inclined. ®