2019: The year all-flash finally goes lamestream – but you know we were into it before it was cool
Analysts predict solid-state array revenue to overtake spinning rust and hybrid
All-flash storage arrays are very fast, but their limited capacity and prohibitive cost has meant that, historically, they were not very popular in enterprise data centres. According to analysts, this is about to change.
Market watcher IHS Markit has said 2019 is the year when all-flash arrays could finally overtake HDD-based and hybrid storage by revenue.
The research firm found that overall revenue for external storage arrays grew 7 per cent year-on-year in 2018, reaching $9.8bn.
Hybrid performance arrays that combine HDDs and SSDs – offering a compromise between capacity, speed and price – led the storage market, with 38 per cent of the revenue split, or $3.5bn, while all-flash was responsible for 29 percent of the overall revenue, or $3.2bn.
However, the storage landscape could be very different in 2019 – IHS expects hybrid arrays to decline to 30 per cent, and all-flash revenue share to balloon to 33 per cent.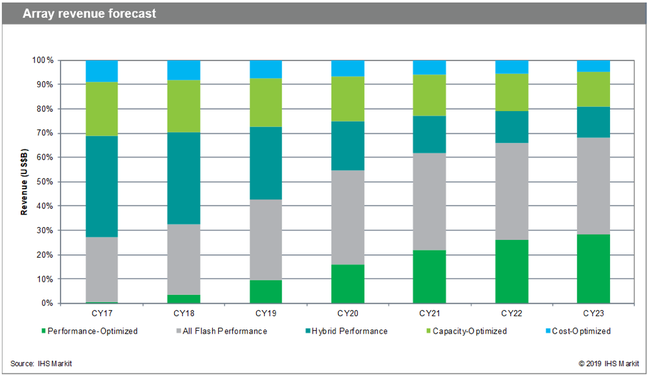 Click to enlarge (source: IHS Markit)
The analyst firm projected that by 2023, the hybrid storage category could be moving towards extinction, with a revenue share of around 12 per cent, while all-flash revenue share would hover around 40 per cent.
Another storage category expected to see a major increase is "performance-optimized" arrays – growing from around 2 per cent of all storage systems revenue in 2018 to more than a quarter of the forecast $63bn total in 2023.
IHS noted that the end of 2018 showed signs of weakness in the storage array market, and quarter-on-quarter revenue was flat. Revenue for white-box vendors declined from 33 per cent share in Q3 to 27 per cent in Q4, as major cloud providers were slowing down their investments – but this trend is expected to reverse by next quarter.
"Storage vendor revenue has been helped by data centre technology refresh to flash for its performance, power and reliability characteristics," said Dennis Hahn, senior analyst at IHS Markit.
"NetApp and other vendors have claimed that while the majority of array factory shipments have transitioned to flash, there still is a substantial footprint of older spinning disk systems that still need to be replaced." ®