In addition to mistrusting foreign technology companies because of the risk of IP packet diversion, nation-states may also have to shy away from foreign shipping firms for fear of package diversion.
US-based shipping giant FedEx on Tuesday apologized following a Reuters report that two packages addressed to Huawei in China from a supplier in Japan ended up being rerouted to the US without authorization. The packages found their way to FedEx's headquarters in Memphis, Tennessee.
Huawei provided images of tracking records to support its claims, which also detailed the unsuccessful attempted diversion of two Huawei shipments from Vietnam to other locations in Asia.
"We value all of our customers who entrust more than 15m packages a day with us," a FedEx spokesperson said in a statement emailed to The Register.
"We regret that this isolated number of Huawei packages were inadvertently misrouted, and confirm that they are in the process of being returned to the shippers. This instance is not indicative of the exceptional service our 450,000 team members provide on a daily basis around the world as they work continuously to live up to each of our customer's expectations."
In other words, according to FedEx, yes, some packages went the wrong way: that happens when you ship 15 million parcels a day.
A spokesperson for Huawei's US division confirmed to El Reg that, indeed, its packages were misrouted, adding: "Huawei is in the process of reviewing our logistics and document deliver support requirements."
The manufacturer's spokesperson said Huawei isn't taking a position on FedEx's claim that the error was inadvertent. Nonetheless, the telecom kit maker has reportedly filed a complaint with China's State Postal Bureau.
Spying not outside the realms of possibility
The deliberate interception of IT systems in transit received widespread attention back in 2014, following Edward Snowden's disclosures, when it was claimed that the NSA intercepted routers being shipped to foreign customers to implant spyware.
Huawei's spokesperson said that the diverted parcels contained technical documents and not IT gear, which renders moot any speculation about equipment subversion in this instance. But a leaked NSA spying tools catalog shows the agency has a close relationship with Amazon that allows them to divert, and then subvert, the packages it wants.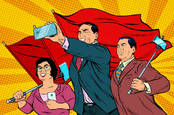 No Huawei out: Prez Trump's game of chicken with China has serious consequences
READ MORE
The incident takes place amid a US-China trade conflict that saw the US Commerce Department ban US firms from supplying Huawei or its partners following the declaration of a national emergency. That ban was subsequently delayed until August 19 as trade negotiations continue.
Huawei meanwhile has been booted from the the SD Association, has been "temporarily restricted" from the Wi-Fi Alliance, and has voluntarily withdrawn from the semiconductor industry's JEDEC group. Exile from the SD Association means Huawei needs to seek a license to create and sell devices with SD card support, something that probably won't happen in the current climate. It also means the manufacturer is frozen out of standards-setting bodies ranging from wireless networking to component connectors to storage.
Over the weekend, the Wall Street Journal published a story detailing alleged intellectual property thefts and other supposed misdeeds by Huawei. It reiterates the position of the US intelligence community that Huawei acts as an arm of China's intelligence apparatus.
Huawei has denied the claims made in the article, insisting that it respects intellectual property and suggesting that partners severing ties are responding to political pressure. ®
Similar topics