Phew! All that competition in the US mobile industry was exhausting. Thank God for the FCC, am I right?
Regulator OKs Sprint-T-Mobile US merger because... 5G? Higher prices?
Analysis The FCC today ushered in a new era of reduced competition in America's mobile market by approving a merger between the third and fourth largest operators, T-Mobile US and Sprint.
Exhausted over having to choose between different mobile operators, folks in the Land of the Free will now only have to pick one of three: AT&T, Verizon or T-Mobint. And, according to the FCC, the decision will both "close the digital divide" and "promote wide deployment of 5G services."
No one apart from the three FCC commissioners that approved the deal can see how the deal is anything but a dangerous reduction in commercial rivalry that will lead to higher prices and greater profits at the expense of subscribers. The regulator's supremo and former Verizon executive Ajit Pai appears convinced otherwise.
He is even certain that reducing competition in the mobile industry will "enhance competition in the broadband market," noting [PDF] that "with New T-Mobile's network, 90 per cent of Americans would have access to mobile broadband service at speeds of at least 100 Mbps, and 99 per cent would have access to speeds of at least 50 Mbps."
Less competition is in fact more competition, according to Pai: "New T-Mobile will be far better positioned to deploy Sprint's extensive 2.5 GHz spectrum holdings than would Sprint standing alone, given that company's financial situation." And in case that's not clear enough, he adds: "So let's be clear: A vote against this transaction is a vote against strong, swift mid-band 5G deployment."
It makes you wonder what the point is of having three mobile telcos: why not just have one and really maximize that 5G deployment? Imagine if a cellular network, say Verizon, didn't have to waste all that money advertising its services because citizens only had one provider to go to. Plus there'd be no need to spend so much money buying up spectrum. Just imagine how much better things would be.
Not entirely unanimous
But despite Pai's impeccable logic, there were two votes against strong, swift mid-band 5G deployment – by two of his fellow commissioners who feel somewhat differently about the merger approval.
Commissioner Jessica Rosenworcel put out a 14-page dissent [PDF] in which she pointed out that "three companies will control 99 percent of the wireless market. By any metric, this transaction will raise prices, lower quality, and slow innovation, just as we start to deploy the next-generation of wireless technology."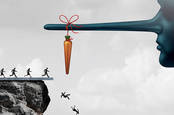 Gather round, friends. Listen close. It's time to list the five biggest lies about 5G
READ MORE
She had some harsh words for her fellow commissioners, who she said had been "wooed by a few unenforceable concessions and hollow promises from the two companies involved." She railed: "So many people already think that Washington is rigged against them. It saddens me when on too many occasions this agency proved them right."
As with many other recent decisions at the federal regulator, she notes that the decision was made long before the details were even considered: "Three of my colleagues agreed to this transaction months ago without having any legal, engineering, or economic analysis from the agency before us. They agreed to this transaction before the Department of Justice could finish its review, ending a longstanding practice of coordinating efforts between the agencies. Consumers deserve better from Washington authorities charged with reviewing this transaction."
While Pai paints a glorious picture of universal broadband and 5G access, Rosenworcel sees a "cozy oligopoly," and "an end to the competitive rivalry that reduced prices by 28 percent during the last decade." Unlimited data plans, free international roaming and offers to pay termination fees will come under pressure, she predicts. And 5G? It will "proceed more slowly and yield fewer jobs without the fuel of competitive pressure."
She goes on: "Both the FCC and Department of Justice should know better… So many of America's most pressing economic and political problems can be traced back to this kind of market consolidation… with less competition, rates rise and innovation falls."
And now the good news
Rosenworcel has much more to say in an in-depth breakdown of the deal but concludes: "I dissent to the FCC's decision to consolidate the wireless market in the hands of three companies. I dissent to the process the agency used to reach this result, which hid too much of the negotiations and this decision out of view from the public. And I dissent to the remedies the FCC adopts that gamble our 5G future on a new wireless entrant and put all the risk of this merger on the backs of American consumers."
Aside from FCC commissioners getting furious with one another, what can folks here really expect to see? Well, significant price increases for one – that's right, the FCC's own approval notes that the deal "would likely lead to significant price increases." So that's good.
Anything else? Well, yes, the US Department of Justice was opposed to the deal and said in an official report that four competitors were required to ensure effective competition. But it removed its objections to the merger after some wrangling behind the scenes.
The FCC's own expert staff are opposed to the merger, though their critical reports were "rewritten by the FCC's political leadership behind closed doors." And no less than 16 states have sued in an effort to block the merger.
And in that lawsuit lies the only remaining barrier to a less-competitive, more-expensive US mobile market. The bipartisan group of state attorneys general say that the merger will result in an "unacceptable loss of competition."
The courts will have to decide whether to take their word for it and believe in the glorious picture painted by Ajit Pai and his cronies that – it feels churlish to point out – has no foundational basis in reality. ®