This article is more than 1 year old
Put the crypt into cryptocoin: Amid grave concerns, lawyers to literally dig into exchange exec who died owing $190m
Investors to crack open a cold one if exhumation request successful
A group of aggrieved crypto-coin investors want to exhume the corpse of a digital money exchange boss in a bid to find their missing millions.
Lawyers representing the out-of-pocket Quadriga CX punters have filed a request [PDF] to the Royal Canadian Mounted Police to dig up and examine the body of Gerald Cotten, the deceased CEO of the now-defunct exchange.
In the letter, attorneys from law firm Miller Thomson ask that a detailed autopsy be performed in order to determine the exact cause of death for Cotten, who is interred at a cemetery in Halifax, Nova Scotia.
"The purpose of this letter is to request, on behalf of the Affected Users, that the Royal Canadian Mounted Police (the "RCMP"), conduct an exhumation and postmortem autopsy on the body of Gerald Cotten to confirm both its identity and the cause of death given the questionable circumstances surrounding Mr Cotten's death and the significant losses of Affected Users," the letter reads.
Cotten is the exec who singlehandedly caused the crash of the Quadriga CX exchange late last year when, while apparently traveling in India, he was said to have died of complications related to Crohn's disease.
Because Cotten conveniently had the only copies of the passwords for Quadriga's cold storage wallets – containing roughly US$190m in customers' cryptocurrency assets – the company immediately went under, and was mostly unable to hand back punters' digital dosh.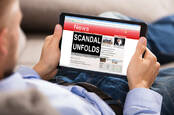 Remember that crypto-exchange boss who mysteriously died after his customers' coins disappeared? Of course he totally stole them
READ MORE
It was later found that the vaults were empty, and that prior to his death, Cotten had reportedly shifted truck loads of people's crypto-coins in and out of personal accounts he owned under various aliases, rather than holding the money in company wallets, furthering fears his passing was not on the up-and-up.
The nature of Cotten's death, and the huge amount of money he seemingly took to the grave with him, have long been the source of speculation, particularly among netizens who lost their investments.
It has been suggested that Cotten faked his death to avoid explaining what happened to the vanished customer funds. Hence, the calls to dig up his body from the Canadian cemetery where he is interred. The lawyers are asking that the examination be wrapped up by the spring, "given decomposition concerns."
The hope is that the exhumation and autopsy will, once and for all, address theories that Cotten's demise was merely a ruse. ®