Comcast has signed a deal with analytics company Comscore to sell its subscribers' viewing habits.
The news emerged after Comscore gave a briefing to investors on the deal, and saw its share price jump 20 per cent as a result. Since then, Comscore has signed a similar agreement with video-streaming service Twitch to obtain its viewing stats, particularly what people watch and how for long. The sharing of this kind of information – presumably anonymized to strip out personally identifying information – is perfectly legal.
Word of the Comcast-Comscore deal was broken late last month by industry magazine Broadcasting+Cable. The CEO of Comscore Bill Livek apparently told investors it was "a game-changing moment in the history of television measurement."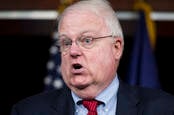 'Nobody's got to use the internet,' argues idiot congressman in row over ISP privacy rules
READ MORE
Comcast has not, to the best of our knowledge, made its subscribers' viewing habits available to audience research companies before, and with cable companies keen to follow the financial success of tech giants like Google and Facebook in selling user info, they are trying to find a way to profit from the huge amount of insight that they have. With folks "renting" set-top boxes to access content, Comcast can use this gear to gather viewing stats to sell to Comscore.
That means that cable companies are a unique source of information on people's viewing habits as the digital streaming era has made traditional methods for measuring viewership less accurate. Think bots muddying the waters online, and so on.
Nasty twitch
Meanwhile, Amazon-owned Twitch, which is the largest global platform for gameplay streaming, signed a similar deal last week that will see Comscore measure video streaming activity, giving advertisers stats on what gamers are watching and when. Comscore says it will have access to figures such as minutes spent online and content minutes per ad minute.
The deals are a big win for Comscore which recently settled a fraud case brought against it and its former CEO by America's financial watchdog, the SEC. Between 2014 and 2016, the biz allegedly overstated revenue by more than $50m. It settled in September when Comscore paid $5m and its former CEO Serge Matta paid $700,000.
Comcast's viewership figures will improve the accuracy of Comscore's analytics, the company told investors. Those analytics are sold to advertisers that use them to decide where and where best to advertise. "Comscore's partnership with Comcast is a significant step in our transformation of television measurement, as we have built the largest viewing dataset of second-by-second viewership data that is aggregated across all premium video providers from the device, to the household, to zip, to the market and to the nation," CEO Livek said.
He went on: "This move vastly improves our direct measurement of television households across the US markets and greatly enhance our national and local rating services. The integration of Comcast viewing information will strengthen our already stable and predictive audience ratings and add impressions and will increase accountability and insights for advertisers, agencies, stations, and networks."
Analysts expected Comscore's revenue for the year to jump by up to $30m from an overall estimate of $390m. ®