This article is more than 1 year old
Intel screams Tiger Lake is 'world's best processor' (then quietly into its sleeve: for thin Windows, ChromeOS laptops)
11th-gen Core processor family for portable computers announced
Having celebrated the arrival of its 11th-generation Core technology last month, Intel on Wednesday held a virtual event to announce the official launch of what it has already discussed, its latest line of processors for laptops.
Developed under the code name Tiger Lake, the nine-member chip family received a fresh coat of branding for its journey to market: it shall be known as Intel Evo, not to be confused with Samsung's all caps EVO SSD line.
The Evo Platform conforms to the second edition of Project Athena, Intel's set of specs that outline baseline requirements for modern laptop computers. It includes aspirations like waking from sleep in less than a second, consistent responsiveness on battery power, nine-plus hours of battery life and rapid charging on systems with full high definition displays, speedy networking and connective ports (Wi-Fi 6 and Thunderbolt 4), and specific form factor characteristics.
It also outlines technical requirements that – surprise – cite Intel components or technologies. Tiger Lake chips in systems that meet the Evo requirements can be sold with an Evo badge.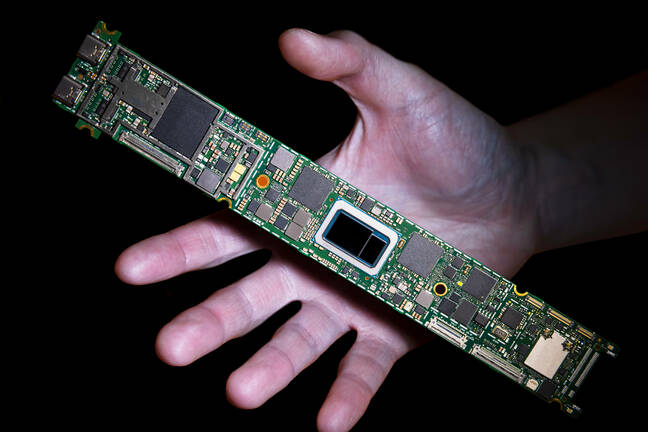 A Tiger Lake processor on a laptop-grade motherboard. Source: Intel. Click to enlarge
Karen Walker, SVP and chief marketing officer at Intel, said the Intel Evo platform brand represents "a new era for Intel," which presumably isn't a reference to Chipzilla's admission that it may work with external foundries to produce components it hasn't had much luck with internally.
Gregory Bryant, EVP and general manager of Intel's Client Computing Group, was even more effusive, using Apple's favorite superlative, "best."
"When we say it's the world's best processor, it isn't an exaggeration," Bryant said during the video presentation. "The 11th Gen Core processor is the best processor Intel has ever built. It's the best processor on the market. And it certainly rises above all the imitators."
In its press release, Intel qualified that claim, describing its latest silicon as "the world's best processors for thin-and-light laptops across both Windows and ChromeOS."
Conspicuously absent is any mention of macOS: Apple earlier this year said it planned to use its own Arm-based Apple Silicon chips instead of Intel processors, starting with at least one laptop toward the end of the year.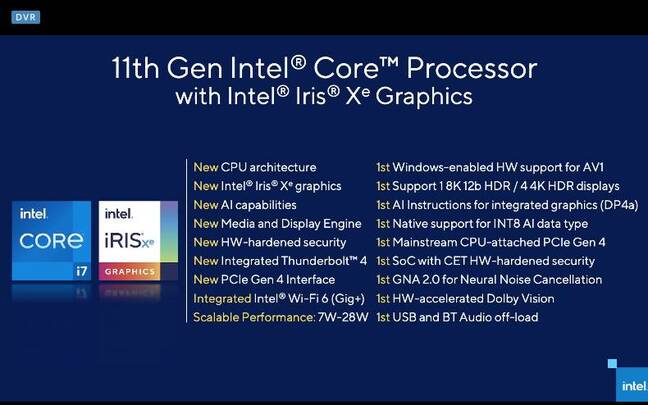 Tiger Lake's key features, according to Intel. Click to enlarge
Intel's Tiger Lake line, which supersedes Ice Lake, incorporates up to four Willow Cove CPU cores running at up to 4.8GHz with SuperFin 10nm transistors. They sport Iris Xe graphics with 96 EUs (execution units) and up to 16MB of L3 cache, integrated Thunderbolt 4, and PCIe Gen 4.
The various SKUs are outfitted as follows:
Part
Graphics
Cores /
Threads
Graphics
units
Cache
Memory
Power
Base Freq (GHz)
Max Single
Core Turbo
(GHz, up to)
Max All
Core Turbo
(GHz, up to)
Graphics
Max Freq
(GHz, up to)
DL Boost
GNA 2.0
i7-1185G7
Intel Iris Xe
4/8
96
12MB
DDR4-3200LPDDR4x-4266
12-28W
3.0
4.8
4.3
1.35
√
i7-1165G7
Intel Iris Xe
4/8
96
12MB
DDR4-3200LPDDR4x-4266
12-28W
2.8
4.7
4.1
1.30
√
i7-1160G7
Intel Iris Xe
4/8
96
12MB
LPDDR4x-4266
7-15W
1.2
4.4
3.6
1.1
√
i5-1135G7
Intel Iris Xe
4/8
80
8MB
DDR4-3200LPDDR4x-4266
12-28W
2.4
4.2
3.8
1.30
√
i5-1130G7
Intel Iris Xe
4/8
80
8MB
LPDDR4x-4266
7-15W
1.1
4.0
3.4
1.1
√
i3-1125G4
Intel UHD Graphics
4/8
48
8MB
DDR4-3200LPDDR4x-3733
12-28W
2.0
3.7
3.3
1.25
√
i3-1120G4
Intel UHD Graphics
4/8
48
8MB
LPDDR4x-4266
7-15W
1.1
3.5
3.0
1.1
√
i3-1115G4
Intel UHD Graphics
2/4
48
6MB
DDR4-3200LPDDR4x-3733
12-28W
3.0
4.1
4.1
1.25
√
i3-1110G4
Intel UHD Graphics
2/4
48
6MB
LPDDR4x-4266
7-15W
1.8
3.9
3.9
1.1
√
Chipzilla presented a variety of benchmark test results that depict its Tiger Lake line outperforming AMD processors in various tasks, as summarized in this slide: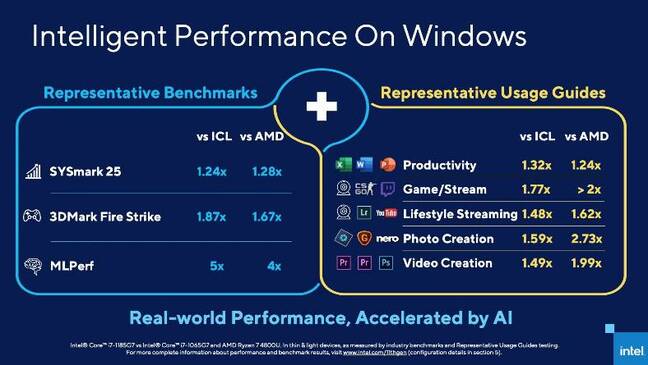 Click to enlarge
Intel, however, offers this caveat about its comparisons: "Software and workloads used in performance tests may have been optimized for performance only on Intel microprocessors." Treat these benchmarks with an enormous amount of salt.
During its virtual event, Nathan Smith, senior director of technology planning and general manager of Intel's Client AI group, highlighted Tiger Lake's machine-learning processing capabilities.
"The 11th Gen delivers exceptional AI performance," he said. "It's delivering up to a 4x advantage in AI acceleration on the Intel Iris Xe graphics, compared to competition, and provides up to 1.7 times the performance over competition on AI workloads running in the CPU."
That sort of thing went on for hours, the overriding theme being that Tiger Lake chips perform pretty well, or about 20 per cent better than Ice Lake – 10th-gen Core chips for mobile – overall. You can catch some highlights below, from Intel:
Intel said some 150 product designs using its Tiger Lake chips – from Acer, Asus, Dell, Dynabook, HP, Lenovo, LG, MSI, Razer, Samsung, and others – are in development. More than 50 of these are expected to hit the market this year, 20 being Evo-verified designs, according to Chris Walker, corporate VP and general manager of mobile client platforms.
The EVO-badged models should include Acer Swift 5, Asus Zenbook Flip S, Lenovo Yoga 9i and Samsung Galaxy Book Flex 5G. ®