This article is more than 1 year old
Nutanix says next CEO to come from outside the company
Founder Dheeraj Pandey shares next five-year roadmap with The Register, predicts tech détente with China
Interview Nutanix will almost certainly hire its new CEO from outside the company, says retiring CEO Dheeraj Pandey.
In an interview with The Register on the eve of the IT supplier's .NEXT conference, Pandey said that while Nutanix has "pretty good talent on the inside" it is also "most probably looking at external candidates."
Whoever gets the gig will need to have experience leading a corporation with revenue in the hundreds of millions, possibly having scaled to that size and beyond, and also have both cloud knowledge and a handle on subscriptions.
"Infrastructure experience would be very useful," he added.
But whoever gets the gig won't need to re-imagine Nutanix's strategy or direction, Pandey said. Aside from the company changing the definition of HCI from "hyperconverged infrastructure" to "hybrid cloud infrastructure", the outgoing CEO thinks Nutanix knows what it has to do for the next five years.
Re-stating Nutanix's mission to "make computing invisible", Pandey said the expansion of the its platform into databases, containers and networking means the business has a "timeless journey" ahead of it. "How do you achieve that across on-prem, cloud and edge?" he asked.
One of Nutanix's tactics has been to sell its software and let just about anyone that sells x86 hardware certify and bundle it. "We started OEMing our software to Dell in 2014," he recalled and that was a big shift from the company's early days when Pandey said Nutanix had to sell its own hardware because a software-only stack would not have been acceptable to customers.
Six years later Nutanix is almost-completely a software outfit. Pandey said the company's next CEO gets to ride that change and keep going with the invisibility mission.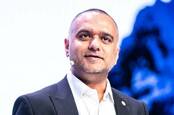 Nutanix CEO and co-founder Dheeraj Pandey to step down
READ MORE
The new boss will have plenty of momentum to work with, some of it thanks to a COVID-caused rebound Nutanix's early strength as a platform on which to run virtual desktops (VDI).
"The last six months have shown we could do very large deals without having to meet customers, and that really changed my thinking about enterprise sales," Pandey said. "The fact you can do multi-million-dollar deals without meeting is surprising."
And some of those deals were for VDI and desktop-as-a-service, which had shrunk to less than 20 percent of deals before the plague sent workers home.
"There is a spectrum from VPN to VDI to DaaS, which is going from crawl to walk to run," Pandey explained. "With VPN you give staff a laptop, With VDI you want them to come to your clouds. With DaaS you give them a desktop that runs anywhere and the apps follow."
"We are seeing customers pick VDI or DaaS. School districts that have Windows-based apps that don't scale need it. SAP HANA becomes an even bigger part of the puzzle because as distribution centres become more mission-critical, you need a cloud-like experience at the edge."
The fact you can do multi-million-dollar deals without meeting is surprising
The intersection of Nutanix and Windows apps also got a mention when Pandey recalled that early in Satya Nadella's tenure as CEO of Microsoft he said something to the effect that "building things people like" is critical, and that companies can either build a platform or build an application, but if the application is good enough and achieves sufficient adoption it effectively becomes a platform.
"Before Satya, there was this immense Windows 'strategy tax' on the customer, because Windows was an end in itself," Pandey said. Nutanix has learned from Microsoft's changes and Pandey said his successor hopes to just build things its customers want and make them good enough they turn it into their platform.
But he also feels that the company's next leader will have to continuously reform Nutanix, too.
"I do not think it is about tech and products," he said, saying that Nutanix's aims can only be reached if the IT corp "refines how we work as a team."
And Nutanix has a new member on its team: Chinese server-maker Inspur has signed up to use its software stack – a potentially tricky decision given the USA's ban on tech vendors selling to China.
Pandey described that relationship as "very fledgling".
"We have given our software to certify on Inspur but because of the geopolitics of the last few months we have been very careful to walk a fine line there. We will follow government advisories."
But ultimately Pandey believes China and the USA will learn to get along.
"Microsoft is big in China. So is Apple, Oracle, VMware. I don't think we are talking about a completely split world where no American tech is used in China.
"I think we just have to wait for the elections and get some clarity on what this all means."
But one thing he thinks it will mean is an opportunity for Nutanix.
"This war in computing will go anywhere and everywhere the laws of physics and economics dictates," he said. "There will be a clamour for data sovereignty, but software does not take sides. "We are basically flexible, too. We are not taking sides. But we think there will be a détente and a compromise in coming months. We can help both sides." ®