This article is more than 1 year old
Another eBay exec pleads guilty after couple stalked, harassed for daring to criticize the internet tat bazaar
Former cop admits conspiracy to tamper with witnesses, too
The Feds have secured another guilty plea in the eBay cyberstalking case where former employees of the online auction house targeted and harassed a couple who were critical of the company in their ecommerce newsletter.
Philip Cooke, 55, oversaw eBay's security operations in Europe and Asia and was a former police captain in Santa Clara, California. He pleaded guilty this week to conspiracy to commit cyberstalking and conspiracy to tamper with witnesses.
Cooke, based in San Jose, was just one of seven employees, including one manager, accused of targeting a married couple living on the other side of the United States, in Massachusetts, because they didn't like their criticisms of eBay in the newsletter.
It's said the team would post aggressive anonymous comments on the couple's newsletter website, and at some point planned a concerted campaign against the pair including cyberstalking and harassment. Among other things, prosecutors noted, "several of the defendants ordered anonymous and disturbing deliveries to the victims' home, including a preserved fetal pig, a bloody pig Halloween mask and a book on surviving the loss of a spouse."
Then they started sending aggressive and threatening messages over social media, both public and private, and threatened to visit them at their home, it is said. According to the prosecution, the messages became increasingly threatening, with the aim of eventually publishing their home address.
One of those accused, Brian Gilbert, who was also a former Santa Clara police captain and who is due to plead guilty later this week, was planning to approach the couple and offer to stop the harassment even though it was his group behind it, "in an effort to promote good will towards eBay."
Turning point
But it was when the couple noticed they were under surveillance in their own home they finally went to the cops in Natick, where they lived, and officers opened an investigation.
It was Cooke's behavior at that point that led to the subsequent charge of conspiracy to tamper with a witness: he formulated a plan to give the Natick police a false lead in an effort to prevent them from discovering proof that his team had sent the pig's head and other items. The eBay employees also deleted digital evidence that showed their involvement, prosecutors said, obstructing an investigation and breaking another law.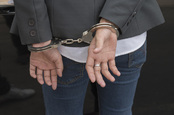 Ex-eBay global intel staffers to admit they cyberstalked online tat bazaar's critics – who got pig heads, funeral wreath, and more in the mail
READ MORE
Cooke, and the others who have admitted their crimes, face serious time. Conspiracy to commit cyberstalking and conspiracy to tamper with witnesses carry a sentence of up to five years in prison each, as well as three years of supervised release, and a fine of up to $250,000.
Cooke's sentencing is scheduled for February 24, 2021. Stephanie Popp, 32, and Veronica Zea, 26 have already pleaded guilty and will be sentenced the next day. Guilty pleas are expected tomorrow from Stephanie Stockwell, 26, and Brian Gilbert, 51.
That leaves eBay's former director of safety and security James Baugh, 45, and former director of global resiliency David Harville, 48, as the two remaining accused employees who deny any wrongdoing.
But according to reports, the conspiracy may go even higher, with "Executive 1" mentioned in one of the group's text messages allegedly referring to former eBay CEO David Wenig. Wenig has not been charged with anything, and the internet giant has refused to comment on the accusation.
But it did put out a statement in June that said it had looked into whether Wenig played a role in the cyberstalking. "The internal investigation found that, while Mr Wenig's communications were inappropriate, there was no evidence that he knew in advance about or authorized the actions that were later directed toward the blogger and her husband," eBay said. ®