This article is more than 1 year old
Mall of duty: Black Ops. No, you're not a customer, you're just an ad audience metric
Quis custodiet ipsos bork-es?
Bork!Bork!Bork! Join us on a jaunt to an Australian shopping centre, where Windows 7 rules the roost and the digital signage, it seems, might be watching your every move.
Submitted by a Register reader, the sign looks very much to us like it might be running Windows 7 (certainly by the look of the filled recycle bin lurking behind consoles of distress.) Our reader told us the picture had been snapped in the last few months, although the sign itself appears to be stuck in January 2020.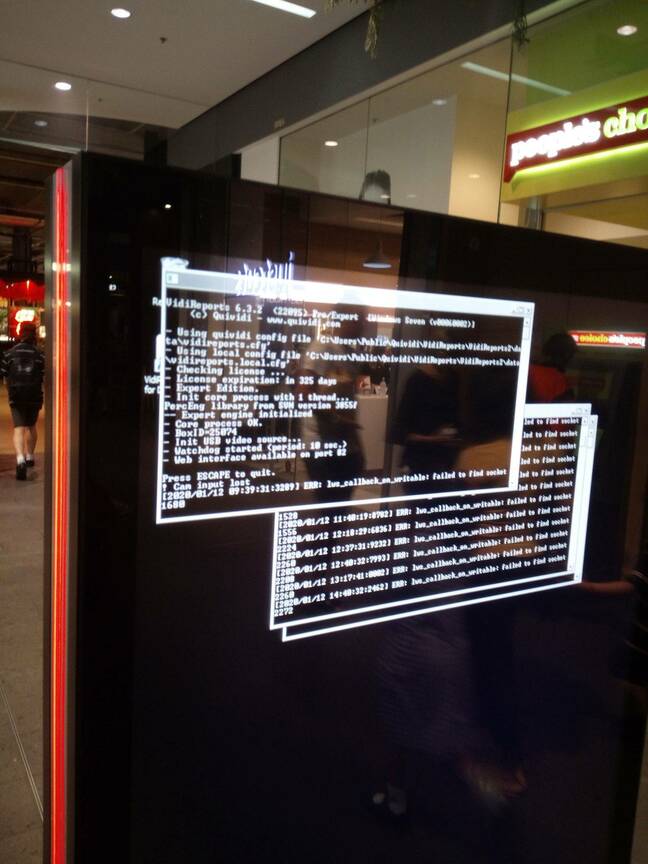 You beauty: Veni, VidiReports.... but definitely did not vici
Most of us are still waiting for March 2020 to come to an end.
For many users, Windows 7 dropped out of support back on 14 January, just before the world was pretty much placed on pause. The date to which the signage hardware has been set might therefore be an attempt to stop the OS whinging to the world about an update. Alternatively, it could be a simple case of the date being immaterial to functioning of the sign.
Running behind the scenes here is VidiReports, an audience measurement tool from Quividi. The software is used by marketers to work out just how many people stopped and stared at the content on the screen (anonymised, of course.)
Showing its underwear to passersby is version 6.3.2. Version 7 lays claim to the ability to detect faces at a distance of up to 15m, track those faces and discern both gender and age range. It also runs on a variety of chippery (up to an i7) atop Linux or Windows.
"Its modular architecture makes it future-proof and easy to administer remotely," trumpets the company although we'd contend that, judging by what is in the logs, a future including "Cam input lost" is not something it planned for, no matter how many console windows of desperation might be open.
Still, today's bork is a reminder that while you might be admiring the antics of some animated signage, somebody else might be admiring you (or your metrics.) ®