Bye-bye Bridenstine: Outgoing chief leaves NASA in good shape, though Boots on Moon by '24 goal looks doubtful
Former NASA test engineer steps into the hot seat as acting head
NASA administrator Jim Bridenstine has left the US space agency with none of the drama associated with certain other American government handovers.
Bridenstine's departure was somewhat inevitable. He began work in 2018 under the Trump administration and has stepped down with the inauguration of a new US president. During almost three years of service, he witnessed the dramatic Soyuz MS-10 abort and the US regain its domestic human launch capability.
While Bridenstine oversaw impressive achievements in the robotic exploration world (he leaves just weeks before the Perseverance rover is due to land on Mars), he will also be remembered for his close association with NASA's Artemis programme, which was set the goal by the Trump administration of returning humans to the Moon by 2024.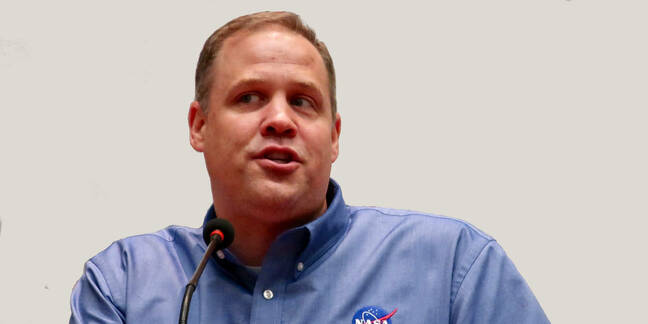 Ad astra ... Jim Bridenstine has left the building
The incoming Biden administration has yet to outline its own plans, and many within NASA will be hoping the agency will not be forced to start from scratch yet again. A return to the Moon does enjoy some cross-party support, although that did not extend to signing off on the $3.4bn [PDF] requested for the Human Landing System needed to deposit astronauts on the regolith. The actual funding approved by lawmakers last month fell somewhat short of that, with less than a billion allocated.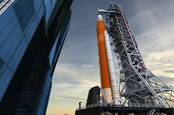 Engineers blame 'intentionally conservative' test parameters for premature end to Space Launch System hotfire
READ MORE
The shortfall pretty much ruled out a landing by 2024. The likely need to repeat the firing of the SLS core stage engines (following the recent truncated test) means it's doubtful the first uncrewed Artemis launch will happen in 2021, let alone getting fresh bootprints on the Moon by 2024. It won't fall to Bridenstine to announce the latest delay, that job may well be given to acting administrator Steve Jurczyk.
Bridenstine must be commended, however, for driving the Artemis programme forward. NASA's budget, while not what was hoped for, has increased and at least includes something for that lunar lander, although some scientists will be looking for a change of tack on areas such as climate science. Bridenstine's sceptical views on climate change raised more than a few eyebrows when he was nominated to replace then outgoing administrator Charlie Bolden.
Over the last few years, the Trump administration has made several attempts to remould NASA to focus more on the Moon and exploration. The whole Moon or Mars thing "put us in conflict in the House of Representatives between Republicans and Democrats," Bridenstine explained before going on to praise the Artemis programme for combining the two.
It has been my great honor to serve as your @NASA Administrator. I will miss the amazing NASA family and will forever be grateful for my time at this incredible agency. Ad astra. pic.twitter.com/Zba4MTawPV

— Jim Bridenstine (@JimBridenstine) January 20, 2021
In an emotional farewell, he paid tribute to the "amazing people within NASA" and ended his address by saying: "When a new team comes in, give them all your support because they need it, they deserve it and of course what we're trying to do... we're not only crossing multiple administrations but multi-decade and multi-generational."
Born in 1975, Bridenstine was the first NASA administrator not to have seen humans walk on the Moon. One can but hope he will be the last. ®