This article is more than 1 year old
Amazon coughs up $62m to shoo away claims it stole driver tips, cut pay rates without telling them
What a lovely company
Amazon will pay $61.7m to drivers it is said to have screwed over by stealing their tips for three years, only stopping when America's Federal Trade Commission (FTC) launched an investigation.
The ecommerce giant's "Amazon Flex" service was launched in 2015 and designed for independent drivers who could use their own vehicles to deliver Amazon goods to customers, expanding the company's fleet of delivery trucks.
Amazon offered to pay $18-25 per hour and promised that drivers would keep 100 per cent of their tips, even featuring the claim prominently on ads as an enticement for people. It also informed customers that 100 per cent of any tips they paid would go to the driver. But one year after the program was launched, the Bezos biz effectively started stealing the tips for itself, it is claimed.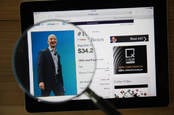 I've got way too much cash, thinks Jeff Bezos. Hmmm, pay more tax? Pay staff more? Nah, let's just go into space
READ MORE
Incredibly, we're told, Amazon achieved this by lowering the actual pay rate paid to the drivers, without informing them, and then used the tips to make up the difference. It introduced a "variable base pay" that it controlled and then tried to hide its actions from drivers who noticed the sudden dip in income.
"The FTC alleges that the company then intentionally failed to notify drivers of the changes to its pay plan and even took steps to make the changes obscure to drivers, with one employee reporting to colleagues that Amazon 'did not want to communicate any pricing changes to [drivers], so we are only 'reacting' to any questions'," notes the regulator's official announcement of the settlement today.
There were hundreds of complaints [PDF] from drivers, and Amazon responded by claiming that it was still paying them 100 per cent of their tips. Internally, some Amazon employees were very unhappy, calling the wave of anger an "Amazon reputation tinderbox." The web goliath stuck with its system from 2016 until August 2019 – when it received notice that the FTC was investigating.
Pay up
Under the terms of the settlement, which the FTC's commissioners unanimously supported, Amazon has eight days to pay its drivers what it owes them direct to their bank accounts.
One FTC commissioner has some choice words for Amazon. Rohit Chopra put out a statement [PDF] in which he accused the tech giant of "expanding its business empire by cheating its workers."
He went on: "Amazon stole nearly one-third of drivers' tips to pad its own bottom line. This theft did not go unnoticed by Amazon's drivers, many of whom expressed anger and confusion to the company. But, rather than coming clean, Amazon took elaborate steps to mislead its drivers and conceal its theft, sending them canned responses that repeated the company's lies."
He also intimated that the US watchdog was going to keep looking at Amazon for anti-trust actions: "This conduct raises serious questions about how Amazon amassed and wielded its market power. Fortunately, today's action to redress the company's victims does not prevent the FTC or state attorneys general from assessing whether Amazon has engaged in a broader pattern of unfair practices in violation of the antitrust laws.
"The FTC will also need to carefully examine whether tech platforms are engaging in anticompetitive conduct that hoodwinks workers and crushes law abiding competitors."
"While we disagree that the historical way we reported pay to drivers was unclear, we added additional clarity in 2019 and are pleased to put this matter behind us," an Amazon spokesperson told The Register. "Amazon Flex delivery partners play an important role in serving customers every day, which is why they earn among the best in the industry at over $25 per hour on average."
In agreeing to the settlement, Amazon does not admit any wrongdoing. ®