This article is more than 1 year old
'Apps for GNOME' site aims to improve discovery of the project's best applications
A sprinkling of Rust and presto! A new multi-language web site appears
The GNOME project has created Apps for GNOME, a website to "feature the best applications in the GNOME ecosystem," according to creator Sophie Herold.
The scope of the GNOME project is extensive and includes low-level system components, a toolkit for developers of GUI applications (GTK), a desktop shell and window manager, and numerous applications built with these technologies.
GNOME apps fall into three categories. The first, called Core, are apps which are generally pre-installed with GNOME desktop, including Files, Terminal, Photos, GNOME Web, Calendar, Contacts, and an installation manager called Software.
The second, GNOME Circle, is for applications from any developer that have gone through an approval process. Circle apps have to be built using GTK, able to be installed as a Flatpak (a system for packaging applications that simplifies distribution and clean install and removal), and follow GNOME user interface conventions. Third, there are development tools such as the Builder IDE.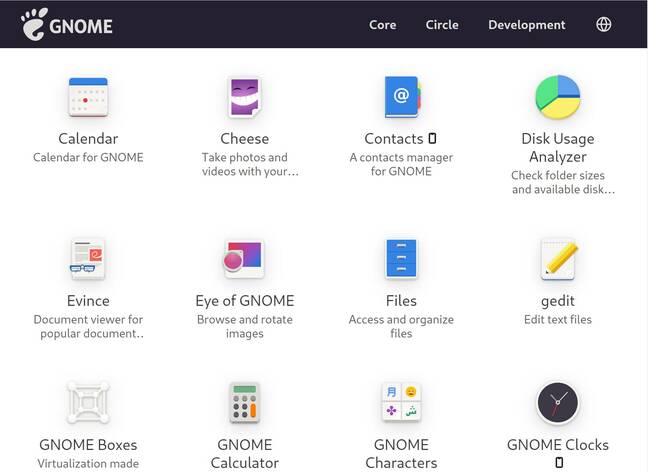 Apps for GNOME: a new site highlighting the project's best applications
Herold is the developer of a Circle app called Pika Backup and became frustrated with the process for keeping information about the app up to date, which includes a page on the GNOME wiki as well as metadata and screenshots that are surfaced in the Software application. "I was no longer motivated to do this work manually for my app and started looking for alternative solutions," she said in a post earlier this month.
She wrote scripts in Rust that gather data from the Flathub repository and from the developer's profiles on GNOME's GitLab installation, to generate pages for a website automatically. The idea was well received and among the first to offer assistance was KDE developer Jonathan Riddell – creator of the KDE Neon distro – who made a similar site for KDE applications.
Herold told us: "I'm maintaining a GNOME Circle app myself and know how time-consuming the additional work outside the code basis can be. That's why I came up with the concept of generating app pages from existing metadata. Another huge motivation for pursuing the Apps for GNOME was the opportunity to have translated resources that are easily accessible.
"The data that Apps for GNOME uses are already covered by GNOME's translation project. I just had to integrate them properly. Everything that lowers existing barriers for using computers is very important to me."
Just a few weeks after Herold's initial post, Apps for GNOME is now online. It looks good, though using the Switch Language feature morphs the site into a combination of English and the selected language.
How can developers get their applications onto the site? "For apps to join the GNOME Circle there is a committee that checks the quality and some fixed criteria. For GNOME Core, a bunch of stakeholders is involved and the process is more complicated," said Herold.
Those interested either in Apps for GNOME, or in the Rust code for generating the site, can find it on the GitLab project page here. ®