This article is more than 1 year old
Internet Explorer 11 limps to the end of Windows 10 road
Going from the semi-annual channel, but you'll never really wash it off the internals
The end is nigh for support for Internet Explorer 11 on some editions of Windows 10. That is, unless users look a little too hard at Windows' internals.
Support is ending today for the Internet Explorer 11 desktop application on the Window 10 semi-annual servicing channel.
From tomorrow – June 15, 2022 – customers still clinging to the past will have to do so without the (seemingly) neverending patches for Microsoft's browser.
Kind of. The relatively popular Windows 8.1, which drops out of extended support at the beginning of 2023, is among the operating systems still clinging on to Internet Explorer 11, as is Windows 7 ESU (Extended Security Updates), and the long term servicing editions of Windows 10.
Still there
The departure of Internet Explorer 11 from the semi-annual servicing channel is a big deal, however.
That said, Internet Explorer is so deeply integrated into the guts of Windows that it will never truly die, even if Microsoft would like users who simply can't do without that one weird website to run it in its latest Edge browser while using "Internet Explorer mode" (which the company promises not to kill without issuing a year's notice first.)
Patches for the bits that lurk within the core operating system will continue to roll out, just without a specific callout to the IE browser.
Internet Explorer first arrived in 1995 as part of the Windows 95 Plus! pack and has been updated over the years (although pretty much everything other than fixes came to a halt when Microsoft tried to wipe the slate clean with Edge in 2015.)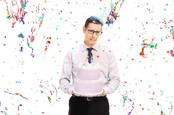 We've come to wish you an unhappy birthday: Microsoft to yank services from Internet Explorer, kill off Legacy Edge by 2021
READ MORE
Despite enraging purists with its habit of introducing proprietary extensions and lawmakers thanks to bundling (browser ballot, anyone?), Internet Explorer enjoyed a dominant position in the early years of the 21th century before its marketshare dropped dramatically.
Impactful? For the 1 percent, maybe...
Internet Explorer was only used by around 1 per cent of desktops over the last year, according to Statcounter.
Asset management outfit Lansweeper published figures today that cited a figure of 47 percent of Windows 10 devices potentially affected by the end-of-life (from an audit of over 9 million) and requiring an update to Edge. While the browser statistics indicate that actual users have moved over to an alternative, it appears administrators still have a bit of work to do.
Still, even though Microsoft has removed support for Internet Explorer from its own services over the years, the end of life for desktop version on the semi-annual channel of Windows 10 remains a milestone. ®