T-Mobile has won exclusive rights to sell the Apple iPhone in Germany. The Deutsche Telekom-owned subsidiary will launch the handset on 9 November, the same day that hordes of Brits are expected to flock to Carphone Warehouse, Apple or O2 UK stores for their Jesus phones.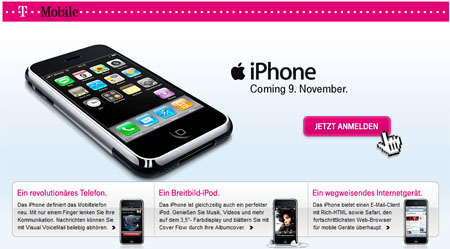 T-Mobile announces its exclusive iPhone deal to Germany
The 8GB handset will cost €400 (£280/$560) in Germany, but T-Mobile does not have to share the exclusive sales limelight with a handset retailer - unlike in the UK where O2 must share it with Carphone Warehouse. T-Mobile customers are expected to sign a two-year network contract to secure the must-have handset.
T-Mobile's announcement was greeted with much less fanfare than yesterday's O2 UK's iPhone love fest. T-Mobile's website currently carries just a simple front page with an image of the handset and its 9 November launch date.
Apple is keeping mum on which networks will win the rights to sell the handset in Spain or France. The rumours are that carrier Telefonica SA may be the lucky network in Spain - because it's the parent company of O2.®