And you get a free wireless internet tablet into the bargain. We can't overstate how good the Touch is at this. They're not fully comparable, but we'd rather have, say, an iPod Touch than a Nokia N800, which costs much the same but has much less memory - though it is expandable - doesn't work as smoothly and has inferior media playback apps.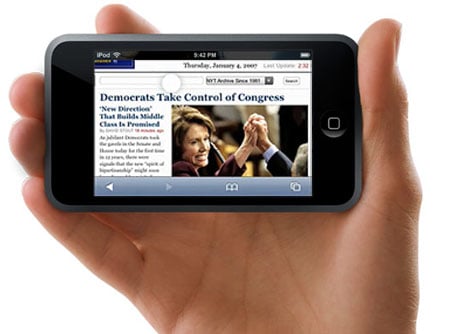 Ideal for surfing?
The only thing we'd want off the N800 on the Touch as an instant messaging client. Apple should be lambasted for limiting the ability to load third-party apps on the Touch, and we can only hope it plans to start offering software add-ons via iTunes. That'd be a great way to kick off a shareware community for the player.
Register Hardware isn't an audiophile website, so we approached the Touch's sound quality from a typical consumer pick-up-and-go point of view. We didn't find the Touch to be any worse than past iPods, though you'll certainly get better sound quality through more expensive, third-party earphones, but that's true of almost every portable media player under the sun. We did notice more background noise than we'd would have liked - our ideal level is none at all, to be precise - but it's not sufficient to intrude onto a soundtrack, even during quiet passages. Apple loses points for this, but we've heard a lot worse.
It also loses points for putting the earphone socket on the bottom of the device. This worked for the first- and second-generation Nanos because if you wore the player around your neck, with the earphones uppermost, it ensured the player was the right way up when you lifted it up to look at the screen, perhaps to choose a new track. You're not going to want to carry the Touch that way and, worse, it makes it hard to remove the dock cable when you've got the earphones plugged in.
The iPhone has a pair of volume keys on the side, and we found we'd have liked these on the Touch too. They're not there because other iPods don't have them either. What other iPods do have is a clickwheel which allows you to adjust the volume without having to take the player out of your pocket or bag. The iPhone's keys have the same result. Not so the Touch, which you have to bring out in full view of all and sundry, disable the screen lock then adjust the volume slider. For those of us living in metropolitan environments, that's just not discreet enough.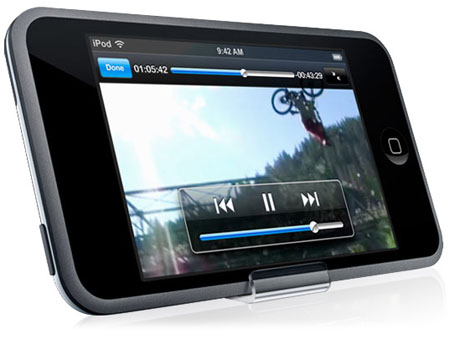 One light stand
Finally, we found Apple's claim that the Touch will play music for a continuous 22 hours to be spot on. Video playback is rated at five hours per charge.
Verdict
Register Hardware wasn't excited by the new iPod Nano and the iPod Classic, but we like the iPod Touch. It's not perfect - the price is too high, and there are some niggles about its interaction with iTunes. But you can't help but be wowed by its graphical bravura, decent-size video playback and - joy upon joy - high-speed handheld web browsing. Got an iPod already? Buy the cheaper Touch and use it solely for surfing.

Apple iPod Touch
The handheld web tablet comes of age - and, guess what, it's a great iPod too...
Price:
£199/$299 (8GB), £269/$399 (16GB) RRP