There's also a camera key on one side of the phone that switches into the shutter control when holding the phone in landscape mode. A volume rocker key doubles up as the zoom key here too, while there's a Memory Stick Micro (M2) card slot on the side which accommodates the 1GB card Sony Ericsson supplies with the W910i - although it can take cards up to 4GB.
This is where you'll be keeping most of your tunes, the internal memory being a modest 35MB. The music player is naturally the centre of attention on any Walkman mobile, and a Walkman-logoed key to the music software is usually prominent. On the W910i, however, this button is tiny, and sits on top of the phone, opposite the on/off key.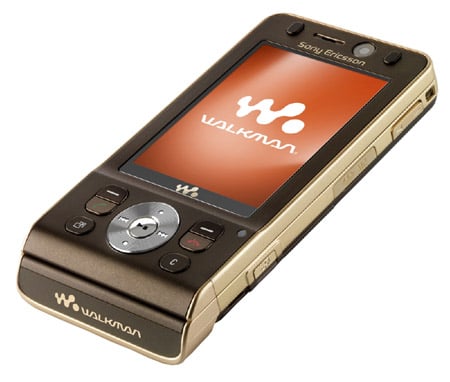 Slim for a sliderphone
But as well as zapping you straight into Walkman mode, this key is essential for getting the shake control in motion too. When the Walkman player is lining up tunes, you hold this button and give it a tilt to the right to go forward a track or tilt to the left to go back a track. A quick shake in both directions sets the player to shuffle mode, playing tracks randomly.
While that might sound easy enough, the positioning of the button makes it a bit awkward to hold and shake comfortably. It's as if Sony Ericsson has deliberately made it slightly tricky to prevent accidental shake'n'tracking. Frankly, it's far simpler to just press the forward button on the control panel – and you'll be sure you've got to the right track too, rather than accidentally shuffling or switching back a track after going forward. In short, at the moment shake control is a gimmick that you can file under 'seemed like a good idea at the time'.
Most of the Walkman player functionality is recognisable stuff, although the updated Walkman Player 3.0 software is very well presented and attractive. It supports a variety of file formats and album artwork. Music is organised by artist, album, tracks, genre and year, and you can create your own playlists. You can also add audio books and podcasts to your music line-up.
Additionally, Sony Ericsson has included a SensMe function, which can list tracks by mood. By using bundled Media Manager PC software, you can transfer music files with assigned moods to the phone. The SensMe software plots these on the display around axes marked happy/sad and fast/slow. You can move a circle on screen to a point on the chart where there's a tune plotted - a bit sad and fast, for example - and click on these tunes to create a playlist that suits your mood.
Another gimmick? Of course, and not really our cup of char, but we can see that joggers or gym bunnies might make use of the fast/happy combo.
Similar topics