This article is more than 1 year old
Windows 7: One compatibility label, no confusion
Microsoft learns another Vista lesson
Microsoft is reducing its four Windows-compatible logos, responsible for confusion and a class action lawsuit, down to a single system for consumers and partners.
Partners that want compatibility with Windows Vista's successor operating system, Windows 7, will only have to navigate a single certification program, Microsoft said Wednesday, and consumers need to look for just a single sticker on their PCs, peripherals or software.
Out will go the four current stickers and programs that certify PCs as either capable of running the full Windows Vista or Windows Vista "basic", as well as the "certified for Windows Vista" and "works with Windows Vista" for software and devices.
It's too early to say what the final sticker would look like, Gary Schare, director of Microsoft's hardware ecosystem product management, told The Reg during Microsoft's Windows Hardware Engineering Conference (WinHEC) in Los Angeles, California.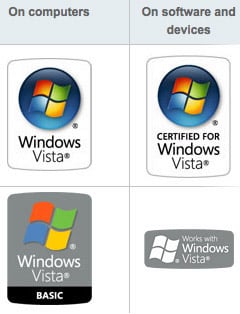 Four become one: sticker consolidation plan
He did say, though, there would be stickers for different machines running Windows 7 such as PCs, touch-screen devices, and media centers.
Schare said the multiple Windows Vista stickers had "helped spur innovation" but muddied the logo while making testing and certification confusing and expensive for hardware and software partners.
Uptake of Windows Vista was badly hampered by the chronic lack of third-party hardware and software capable of working with the operating system out of the gate.
"We want to simplify the program to let the consumer know what they are looking for and for the partner to know what they have to do," Schare said.
The Windows Vista logo program has also landed Microsoft in hot water. Before the current four logos, Microsoft had devised its "Windows Vista Premium Ready" and "Windows Vista Premium Capable" logos ahead of the product's launch. A class action lawsuit is now wending its way through the US courts, begun by consumers claiming Microsoft deceived them with its adverts and claims of what exactly Windows Vista "capable" meant.
The changes come as Microsoft starts banging the drum for hardware engineers to begin targeting Windows 7, the week after evangelizing about the OS to software developers at its Professional Developers' Conference (PDC).
Executives at WinHEC claimed tweaking and tuning in power consumption, performance and footprint terms will speed-up Windows 7 and make it more suited to netbooks, which have limited form factors and power sources. Also, unlike Windows Vista, Microsoft wants Windows 7 to be able to run on consumers' existing PC hardware.
Microsoft demonstrated an Asus EEE S101 with a 1GB RAM, 16GB solid-state drive and a dual-core ATOM processor running the full Windows 7 at WinHEC. Schare said Windows has been tweaked to provide sequential access on a solid-state drive rather than use random access on a hard drive. He was unable to say whether the final Windows 7 would ship with both options in the same edition, or be available as separate features.
Schare claimed Windows 7 had an 11-15 per cent improvement in battery life over Windows Vista, while CPU idle time was down to between one and two per cent. A major niggle with Windows Vista has been the fact it freezes as it goes into CPU cycles. Boot-up and shut-down have been sped up, too.
Of course we'll have to take him at his word on the OS's performance, as Microsoft has yet to provide final metrics. Schare said Microsoft was not prepared to yet provide final or exact metrics. It's worth noting that Windows 7 has not yet reached the beta phase, so Microsoft is showing off some extremely early code. ®