Getting on with the host
Integration with the host operating system is excellent. You miss out on pretty thumbnail previews, but the important stuff just works. Save a virtual document, and it appears by default in the Windows 7 document folder, not somewhere on the virtual hard drive. Clipboard support is seamless, and printing is supported provided Windows XP drivers are to hand.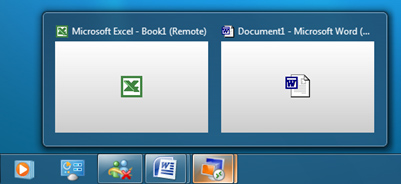 Bling not included: you miss out on new Windows 7 interface touches
I plugged in a USB drive and was immediately able to open a document stored there within virtual Word. The virtual machine is configured with 256MB RAM by default, and on this Dell, which is stacked with 3GB RAM, the resource usage is minimal. When you shut down Windows 7 after using Windows XP Mode, the virtual machine hibernates by default, which is convenient but could in time lead to degraded performance.
The seamless integration can be confusing. Even when running underneath a virtual application, the XP instance can launch dialogs and notifications in Windows 7, and it may not be obvious that they come from the VM rather than the host. One example is our old friend Windows Genuine Advantage Notifications, which popped up when I started Access 2000.
Most of the features called Windows XP Mode are really features of the new Windows Virtual PC, though since this only works on Windows 7, it is a fine distinction. Virtual PC will also run on Windows 7 Home Basic and Home Premium, but without virtual application support. The guest operating system has to be Windows XP SP3, Vista Enterprise or Ultimate, or Windows 7 Enterprise or Ultimate.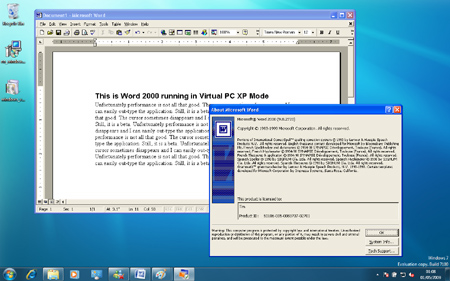 Looks like Office 2000, runs like Office 2000 - just slower response times
You cannot run the full virtual machine at the same time as an integrated virtual application, which is a disadvantage for troubleshooting. And you need to run the full VM to attach USB devices such as cameras.
Performance problems aside, Windows XP Mode looks promising. It will work best for organizations rolling out new machines pre-loaded with both Windows 7 and Windows XP Mode. The hardware virtualization dependency is unfortunate, since many PCs that otherwise work fine with Windows 7 do not include it. That is a shame for those businesses with a patchwork of machines of varying age, which is common in the target small business market.
Further, while Windows XP Mode is a valuable tool for running otherwise incompatible applications, it is hiding rather than removing complexity. Underneath, there are still two operating systems to maintain. It is a free add-on though, and Windows XP is a familiar enemy, so overall this is one more reason to prefer Windows 7 to Windows Vista.
Windows XP Mode beta is available now to TechNet and MSDN subscribers and generally from May 5. ®
Similar topics