Nokia E72 smartphone
BlackBerry liquidiser?
If you're used to Nokia's N series phones, like the N95, the E series improves on those models in various ways. For instance, you can find a contact by starting to enter the name on the keypad. A list of matches appears, which you can scroll through to select. Scrolling right from a contact with the navpad pops up a menu with options like Call, Internet call, Send message, Send meeting request, and so on.

The 'Navikey' is more than a navpad and responds to swipe motions
The calendar app has more views, including daily and weekly ones, though lacks categories, which is an enduring annoyance with Symbian. There's a good selection of tools included, like the full editing version of QuickOffice (but not the most recent, though that is a free upgrade), so you can edit Word and Excel documents, as well as Adobe Reader LE. While we could persuade Nokia's own apps to print wirelessly, alas, we couldn't manage the same with QuickOffice.
The 'Multiscanner' app is surprisingly effective; point the phone at a business card, press the button and it'll take a photo and then run OCR, saving the card directly as a contact. There's also a general OCR mode, which will doubtless be useful for corporate espionage.
Nokia makes much of the lifetime Messaging subscription, which gives you 'push e-mail,' complete with homescreen notifications. If you're a light to moderate email user, it's ok – but you have to set up your e-mail accounts on a Nokia server, and choose which folders you want synchronised.
There's a limit of ten folders per email account, and old messages won't be picked up – folders don't even appear unless there's a recent message in them. Serious e-mail users will still probably want to invest in ProfiMail for full, unfettered IMAP access, though Messaging does at least include support for Exchange and Notes.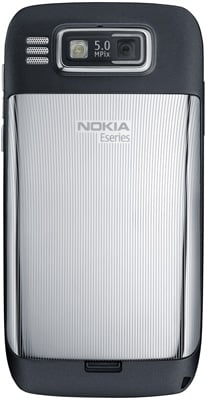 The camera software features optical character recognition (OCR)
Also included are a multi-lingual dictionary, VPN support, Psiloc's World Traveller, which gives you weather and currency information, and WiPresenter, as well as the usual Series 60 Feature Pack 2 things you'd expect, such as WebDav remote file access, which connected to our iDisk without problems.