This article is more than 1 year old
RIM BlackBerry Bold 9700
Slimmer, sharper, swifter
Review The original BlackBerry Bold 9000 cut quite a dash when it debuted last year, signalling clearly to any doubters that Research in Motion was moving the BlackBerry out of the boardroom and into the pockets and handbags of consumers who had need for its exemplary e-mail service in their day-to-day lives.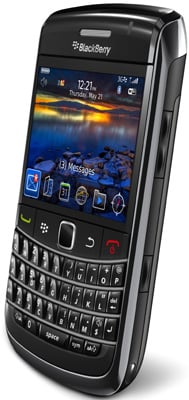 Leaner and fitter: RIM's BlackBerry Bold 9700
Yet, times move fast on planet mobile, and already we're looking at the update, which offers a sleeker case, better screen, new track pad, upgraded camera and more besides. The BlackBerry Bold 9700 – also known informally as the BlackBerry Bold 2 – is a slimmer and sharper looking device than its predecessor.
At 109x60x14mm and 122g it's lost a good 6mm off the sides, 5mm from top and bottom and a sliver under 1mm in thickness. It's also 16g lighter, which is all to the good. All this millimetre shaving leads to noticeably sleeker looking handset, that wears its Qwerty keyboard considerably lighter than its predecessor, so it looks less like standard office drone issue and more like a style-led purchase. Even so, it's unmistakably a BlackBerry.
'Twixt keyboard and screen sit the usual hard buttons – call start and stop, menu and back – but the track ball has now been replaced by the optical trackpad that BlackBerry has been including on recent models such as the Curve 8520. Supposedly, this choice offers longer life due to there being no moving parts, but with no loss of sensitivity.
The buttons on the side also echo the latest Curve, with volume, camera capture and programmable voice command buttons now covered by a rubberised plastic strip, which serves to help them blend into the casework. There's also a micro USB power/sync slot, 3.5mm headphone jack socket (neither of which have covers), with touch sensitive keyboard lock and mute keys on top. At the back it has an imitation leather, grippy cover along with the 3.2Mp camera lens and a single LED flash.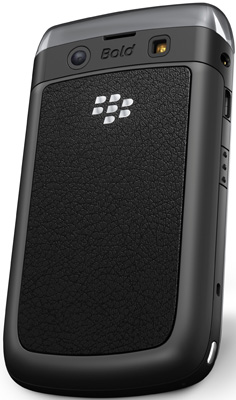 Grippy leather effect casing is both practical and stylish
The 2.4in LCD screen has been updated to put it among best of the BlackBerrys, with its 480x360 pixel resolution, though it supports the same 65,000 colours as its predecessor. It certainly looks impressively sharp, and there's a light-sensor function too, so it automatically adjusts to ambient light, thus hopefully saving your battery.