Review Cast your eye over our news piece on AMD's ATI Radeon HD 5970 and our review of the HD 5870 and you'll have the essential information at your fingertips. AMD has, for some unknown reason, changed its naming convention, so this two-chip HD 5870-based graphics card has been named HD 5970 instead of the more predictable HD 5870 X2.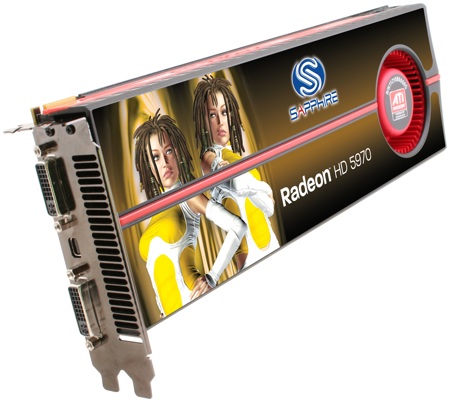 Sapphire's Radeon HD 5970: overclocked, slightly
What we have here is a very long graphics card with two HD 5870 GPUs that are linked by a PCI Express 2.1 bridge chip along with two groups of GDDR 5 memory that total 2GB. A single HD 5870 chip packs 1600 Stream processors into one 40nm core, so the HD 5970 has a startling total of 3200 shaders.
The key features have been carried over from the HD 5870, including support for DirectX 11, triple monitor support with ATI Eyefinity and some nifty power-saving technology. That said, although AMD has worked wonders to reduce the power draw of the HD 5000 series at idle, the fact remains that the two chips draw plenty of power when they are under load.
The mid-range HD 5770 has a figure of 108W, the HD 5850 draws 151W and the HD 5870 is rated at 188W. If AMD had kept the speeds and feeds for the HD 5970 at the same 850MHz/4800MHz used by the HD 5870 then it's reasonable to estimate the loaded power figure would have climbed to 360W. AMD tells us that the enormous cooling package used on HD 5970 can handle 400W so these figures might be sustainable provided we could stand having the cooling fan running at full tilt during a gaming session.
AMD decided to keep the maximum power figure below 300W by reducing the voltage fed to the graphics core and memory. This led to a reduction in clock speeds to 725MHz/4000MHz - speeds familiar to anyone who owns or has read about the HD 5850. This means that the HD 5970 is something of a mongrel: a kind of Radeon HD 5850 X2 with extra shaders. The loaded power figure for the HD 5970 is 294W which is pleasingly close to double the 151W for the HD 5850.

The port in the middle is the Mini DisplayPort
This emphasis on the control of power heat and its dispersal has dictated the layout of the graphics card. The exhaust vent for the cooling package fills the upper half of the dual-slot bracket while the three graphics connectors are arranged in a row underneath. There are two dual-link DVI outputs along with a mini Display Port. The standard AMD package includes an adaptor to convert the mini DisplayPort to a full-size DisplayPort.
Similar topics