The slide lock on the right hand side needs to be operated firmly, and since it's in the middle of the phone, the most likely operator is your middle finger. I can't understand why Nokia can't combine the Lock with the Power key (as with the iPhone) or place it more conveniently, where it falls naturally under your strongest digits (your thumb or forefinger). Samsung takes the latter approach. Both lock and menu keys are used several times a day, any issues here are magnified.

A music device first, second and third, but will Comes With Music be a sufficient draw?
Despite the bulky appearance – some promo shots suggest it's far thicker than it turns out to be, the X6 is doesn't burst a hole in your pocketat 122g, unlike the N900. Panning out at 111mm x 51mm x 14mm, a shade lighter than the HTC Hero. The screen is better than the bodged S60 UI makes it appear – the Android with far fewer pixels (480 x 320 versus Nokia's 640 x 360 pixels) appears clearer and sharper.
Battery life proved to be excellent. Nokia claims 6 hours talktime on 3G from the 1320mAh battery; and 35 hours playback. Disappointingly this doesn't charge from the micro USB with which Nokia advises you to connect to your PC or Mac. The HTC Hero claims a better talktime, but in practice I got nothing like that from my power-guzzling HTC, and felt far more confident of the X6.
The X6 boasts stereo speakers, and a standard compliment of WLAN, and HSDPA radio. There's an FM radio, but it still needs the headpiece connected as an antenna. With 600Mhz and 1Ghz chips in the latest gadgets, the 434MHz ARM is adequate, but no more.
The camera has autofocus and a harsh dual LED flash. It's nothing to be ashamed of: it offers perfectly acceptable shots outdoors and in decent light, it's only in dim lighting conditions that it struggles. Video records at up to 640 x 480 pixels and up to 30fps (TV quality), again, not earth shattering for a high-end phone, but respectable for a midrange beastie.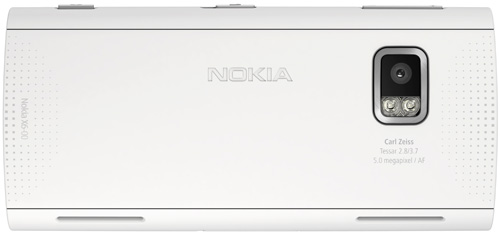 Featuring a Zeiss lens, the 5Mp camera performs reasonably well, except in low light
Nokia must optimise the Gallery, it's now too pokey and slow compared to the iPhone, showing the 21st Century equivalent of the hour glass as you scroll through pictures. Modern phones give people a pocket-sized picture frame, but Nokia is still obsessed with the idea that 'sharing' is primarily a web-based activity. It's not. Most photo sharing is simply showing a friend or relative a picture. The iPhone is flawless in this respect.