US Navy plans self-building floating fortresses
Swimming, stacking ISO containers: Just add SEALs
---
This would be a rather slow-to-deploy and unwieldy affair, however, compared to DARPA's ISO-container idea - modern container ships are much faster than mobile oil platforms, and the Modular Sea Base units would be tipping off their carrying vessels and forming into a unit while the big flood-up flood-down jobs were still weeks away.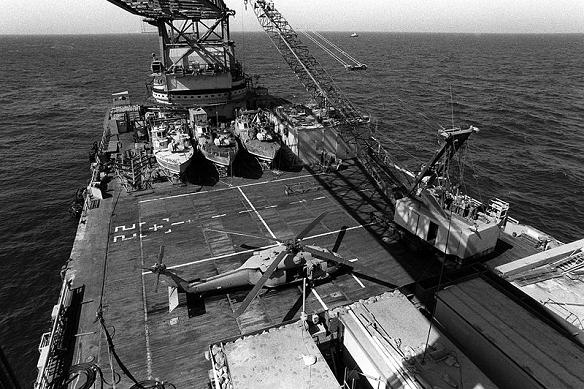 Now picture this, built out of snap-together ISO containers.
There's a real-world precedent for this general kind of caper too - Operation Prime Chance and Operation Nimble Archer during the 1980s tanker wars in the Gulf. US special-ops units used two converted civilian oil-servicing barges as bases for helicopters and SEAL gunboats, effectively crushing covert Iranian mine laying efforts directed at the tanker traffic in and out of the Gulf.
DARPA doesn't mention it, but the TEMP Modular Sea Base concept is plainly aimed to produce a modernised version of the platforms Hercules and Wimbrown VII, which did such effective work more than thirty years ago.
The Falklands, too, was a long time back. In many ways the TEMP programme serves more to illuminate just how slow and reluctant western navies have been to move away from their World War II force structure than it is an example of DARPA being forward-thinking. ®
Bootnote
*Though the Harriers couldn't get airborne vertically with a useful load of fuel and weapons: they need a short runway (and ideally a ski-jump ramp) to do that. This was a plan for ferrying the Harriers to war, not to create an operational sea-base in their case.
Similar topics
Broader topics