This article is more than 1 year old
Asus Eee Pad Transformer Android tablet
Tabtop computing at its best?
Keyboard shortcuts
Power boosts aside, the keyboard also provides an SD card slot and two USB ports for attaching a mouse (soon to be supported) or mass storage devices. Testing raised some slight concerns over the keyboard's overall usefulness, however. The extra battery is certainly beneficial, but, as a touch typist, I experienced slight, but appreciable lag when using the keyboard to browse, and quickly reverted to the on-screen keyboard.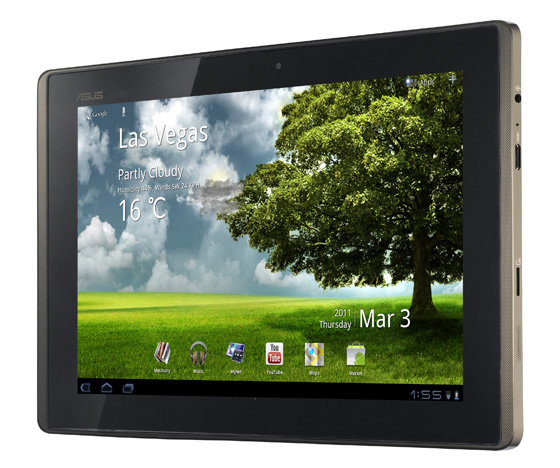 First and foremost an Android tablet, but the Eee Station integration is well thought out
With Android presently optimised for touchscreen controls, the keyboard's most obvious advantage came during prolonged text entry in the included Polaris Office suite applications. Due imminently, Honeycomb 3.1 will introduce full mouse support and increased editing capabilities. All being well – assuming Asus updates the keyboard drivers to improve responsiveness – the Transformer should be ideally placed to exploit Android's ever-broadening scope.
Verdict
The Asus Eee Pad Transformer is the Wayne Rooney of tablets. It might be aesthetically challenged, and its video playback and keyboard performance inconsistent at present, but there's no denying its versatility or skill. Likely to prove just as divisive as football's most famous orc, this hybrid tablet-cum-netbook will surely be dismissed by some as a novel chimera and likewise appreciated by others for its raw power and standout screen. ®
More Tablet Reviews

HTC
Flyer
Hannspree
Hannspad
Acer
Iconia Tab
A500
Archos
70
Motorola
Xoom

Asus Eee Pad Transformer Android tablet
Wi-Fi-only tablet with Android Honeycomb on board and docking keyboard option.
Price:
£379 (16GB ), £429 (16GB + keyboard) £429 (32GB), £119 (Eee Station keyboard only) RRP