Philips BDP7600 Blu-ray player with Net TV
Silver surfer
---
Review Sidestepping the cheap black plastic approach of even some mid market Blu-ray Disc players, the BDP7600 from Philips has a robust metallic build. Its smooth and quiet disc tray emerges from a mirrored front panel, which is otherwise interrupted only by a USB port to the right. Beneath the fascia is a curved control strip with illuminated touch sensitive controls.

Shining example: the Philips BDP7600 distances itself from non-descript black plastic Blu-ray boxes
Around the back is a broad range of AV connections as well as an Ethernet port for networking and internet access. The BDP7600 also features built in 802.11n Wi-Fi. Although it has more sockets than basic players, a second HDMI would have been be helpful for sending HD audio to older AV receivers that can't pass through 3D images. Moreoever, if you're committed to using analogue component video on your receiver or TV, then you're out of luck, as this player doesn't have this interfacing either.

Well served for audio with optical, coaxial, HDMI or analogue 5.1
The BDP7600 is well up to the current spec for disc playback, outputting at up to 1080p – including a film-friendly 24 frames-per-second mode – and 3D compatibility at full HD resolution.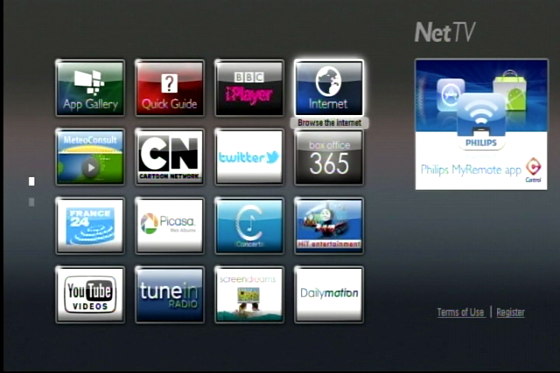 Yes, these really are just about all the apps it has
It is also a fully-fledged digital media player, with a massive range of supported audio-visual formats that it can pick up over your home network or directly using a hard disk or flash drives attached to the USB port. Alternatively, this connection can be used for a dongle for a wireless keyboard if you want to be a heavy user of the Net TV feature.