This article is more than 1 year old
Microsoft reveals Windows RT OEMs
Dell, Lenovo, Samsung and ASUS ARMed for tablets and "RT PCs"
Microsoft reveals Windows RT PC partners Dell, Lenovo, Samsung and ASUS ARMed for "RT PCs" Microsoft has revealed the full roster of Windows RT PC OEMs, and detailed more about the future products' users interfaces.
The details were revealed in a blog post, as is the case for many such announcements in these socially-oriented days.
The post says Dell, Lenovo and Samsung will all make devices Microsoft is calling "RT PCs". ASUS had previously let it be known it was aboard. NVIDIA, Qualcomm, and Texas Instruments are named as vendors whose ARM CPUs will be supported. The post is careful to point out that Windows RT doesn't have to be used in a tablet and that the companies mentioned will pack ARM silicon, a keyboard and touch screen into their RT PCs.
An example of the laptop form factor is illustrated below, with the image at left a prototype of an ASUS device. The image at right is the finished article.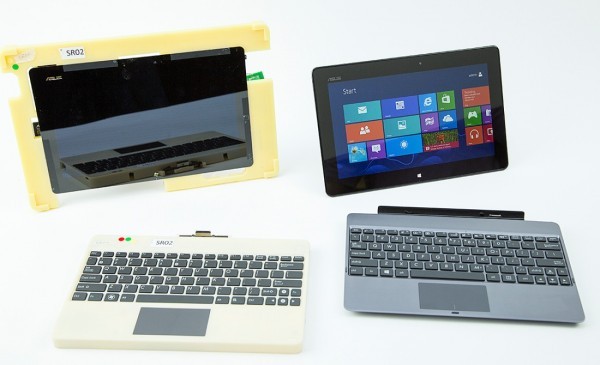 In discussion of RT's likely performance, the post mentions configurations including "tablets and laptops, screen sizes that vary from 10.1" to 11.6", and battery sizes spanning 25 Whr to 42 Whr" and predicts battery life of between eight and 13 hours when playing HD video. Standby times are predicted to exceed 320 hours in "connected standby" mode that sees RT devices use very little energy but still boot up with email updates and other new information loaded and ready for consumption without delay.
Also on offer is the range of sizes and weights we can expect from Windows RT devices when they arrive. Those figures indicate the Windows RT menagerie will contain all sorts of different creatures, as specs for the devices range widely. Weights will vary between 520 grams and 1.2 kilos. Devices' lengths will range between 263mm and 298mm, while widths will vary between 168.5mm and 204mm.
Depths will all be slim, with a size range of 8.35mm to 15.65mm on offer and making some RT PCs head-on competitors for Ultrabooks.
The post also explains how users will drive Windows RT, offering the graphic below to illustrate its vocabulary of gestures.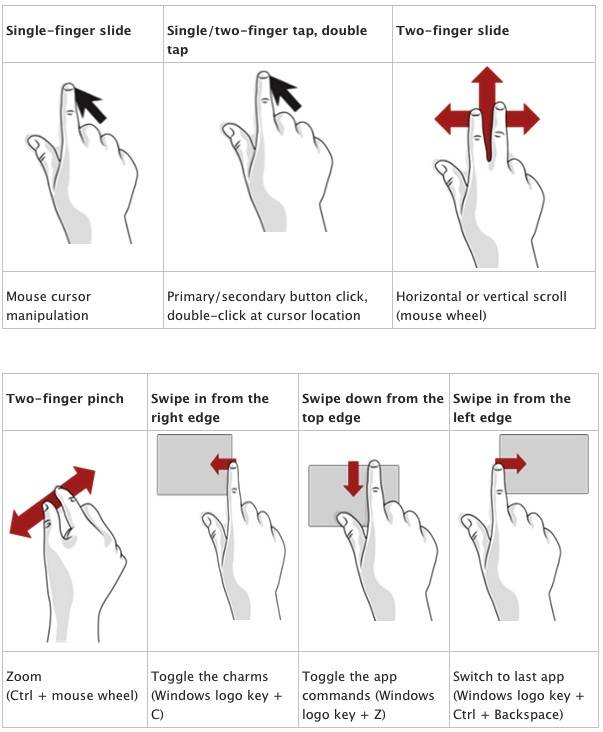 Another interesting remark in the post hints at an appliance-like Windows RT experience, as:
"PC makers will provide Windows RT PCs as integrated, end-to-end products that include hardware, firmware, and Windows RT software. Windows RT software will not be sold or distributed independent of a new Windows RT PC, just as you would expect from a consumer electronics device that relies on unique and integrated pairings of hardware and software. Over the useful lifetime of the PC, the provided software will be serviced and improved."
The frequency of RT upgrades is not revealed in the post. ®