Apple's brick-and-mortar stores rake in over twice the income per square foot as the US second-place earner, luxury retailer Tiffany & Co.
According to a new study by the research firm Retail Sails, Apple's real-world stores earned an average of $6,050 per square foot during the year ending in June. Tiffany pulled in a distant $3,017, and third-place yoga and running-gear purveyor lululemon athletica was far behind at $1,936.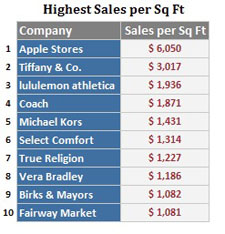 Of course, selling pricey kit makes it easier for Apple to chalk up high sales figures. That said, Tiffany & Co. is not exactly Lidl nor Big Lots, and Retail Sails' top-ranking department store, pseudo-swanky Neiman Marcus, pulled in a relatively meager $508 per square foot.
No matter how you cut it, Apple's retail effort is a cash-gobbling juggernaut, with 390 stores in 13 countries bringing in $18.8bn in Apple's most recent fiscal year – that was 12 per cent of the company's total annual sales. Retail store space totaled 4.1 million square feet for the year, and the average sales revenue per store was $51.5m.
As last month drew to a close, Apple's short-time retail chief John Browett, late of the UK's Dixons chain, was shown the door, reportedly for botching a sales-staff realignment, damaging employee morale and thus possibly endangering customer service. With retail revenues being what they are, he certainly wasn't let go for exhibiting poor money-making skills.
Apple opened its first two retail stores on May 19, 2001 – one in Tysons Corner, Virginia, and a second in Glendale, California. In its infinite wisdom, BusinessWeek greeted the stores' debut with a commentary entitled "Sorry, Steve: Here's Why Apple Stores Won't Work." In that dismissive article, the president of research firm Channel Marketing predicted, "I give them two years before they're turning out the lights on a very painful and expensive mistake."
In a Cnet article reporting the stores' opening, an IDC analyst advised, "Wouldn't it just make more sense to spend $100 million on an advertising campaign that reaches a lot of people rather than opening stores that get a little traffic in select areas and are expensive to maintain over time?"
Mmm ... well ... apparently not. ®
Similar topics