Nokia's latest budget smartphone brings the price of admission to Windows Phone 8 below the £150 mark. From today O2 will sell the Lumia 620 at £149.99 on pay-as-you-go, a bargain considering what's inside. The network will also chuck in an additional free colour cover.
Other operators will also offer the 620: Three and Virgin Mobile will flog the black-cased model from this weekend, and Vodafone will sell the cyan and white models from 6 February.
The 620 is similar in size to 2011's Lumia 800, and offers a 5MP camera, removable battery, 8GB of storage (5GB available), HD voice calling and HD video capture. The wireless charging technology that Nokia is promoting heavily for its Lumia range isn't available in the 620, however.
Clip on covers are available in lime, pink, yellow and cyan, as well as black and white; only the lime seems to be glossy, though. The others are matte and less slippery. It feels the most comfortable of Nokia's new Windows Phone 8 range.
Despite the yoof-oriented colour palette, it has a very strong software proposition, bearing in mind Nokia's offline maps and turn-by-turn navigation is thrown in. Whether it also finds a niche as a second phone (as some Reg readers have suggested) depends in part on its battery life – and we'll be able to tell you more about that shortly. The 1300mAh battery is removable.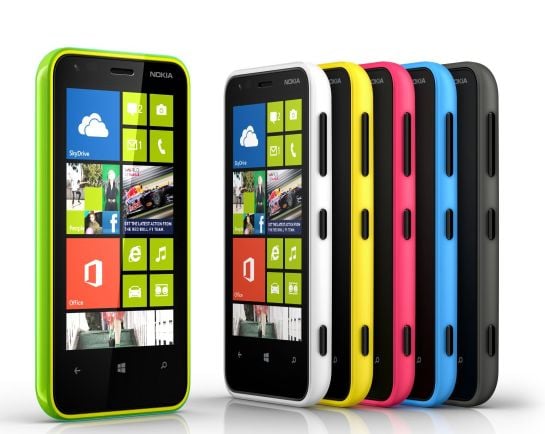 The Nokia 620
Nokia also said today that the long-awaited 7.8 cosmetic update to Windows Phone 7 and 7.5 phones has finally started to ship, rolling out to mobile network operators globally throughout the next month.
The more controversial Window Phone 8 bug-fix update codenamed Portico is also now being pushed out. It fixes some problems but apparently introduces some new ones, according to fan forums. WinPho 7 and 7.5 handsets need to update via a wired connection to a PC or Mac, but WinPho 8 devices can be upgraded over-the-air.
Separately, an Apollo Plus update to Windows Phone 8 should add features omitted in the rush to deliver the platform last year, including VPN support and a coherent Notifications centre. ®