A recent SEC filing has brought to light some of the details of the recent sudden departure of the CEO of standalone storage software shipper FalconStor - including the admonition that if the SEC didn't insist on the publication of the agreement, that neither party would tell all on, er, Twitter...
The storage firm is living on borrowed time. Its CEO, Jim McNiel, has just resigned; it has had to delay its much-hyped next-generation technology; and now it faces a stock price crash if it files a predicted fourteenth loss-making quarter in a row. Its upcoming second calendar 2013 report is due on 8 August.
FalconStor makes IP storage, virtual tape library and continuous data protection software. EVP and COO Gary Quinn has become interim CEO but unlike McNiel does not have a seat on the board.
FalconStor chairman Eli Oxenhom said: "We want to thank Jim for his three plus years of service and for his contributions to the Company. We wish him all the best for his continued success in his career. We are fortunate to have an executive of Gary Quinn's caliber to serve as interim Chief Executive Officer."
The company's statement did not say that it was looking for a replacement CEO. It said McNiel had "voluntarily resigned his positions as President and Chief Executive Officer of FalconStor to pursue other opportunities".
The resignation was dated 28 June, the last working day of the second quarter, and came as a shock to many insiders.
The filing
Now an SEC filing has revealed McNiel had received a $420,000 payoff and had signed an agreement not to disparage the company. This is not necessarily unusual for a departing exec but some of the details make for interesting reading.
For example, the company paid McNiel $20,000 for office furniture he had bought and he got to keep his MacBook Air and iPad.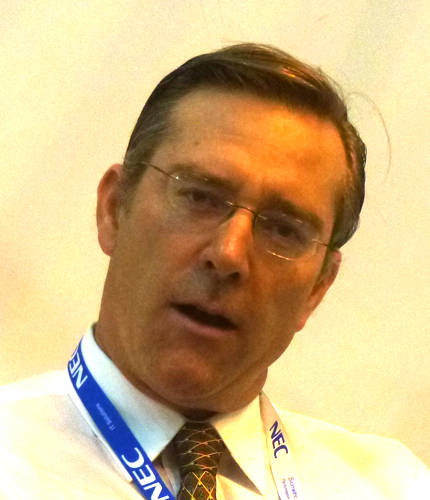 Jim McNiel
The filing details a separation agreement between McNiel and the company and reads:
You understand and agree that You will not disparage Company or any other "Released Party" (as defined in Paragraph 11) or encourage or induce others to disparage Company or any other Released Party. If the Company receives an inquiry regarding You from a prospective employer, the Company agrees to confirm the positions You held, the dates You were employed by the Company, and that You voluntarily resigned to pursue other opportunities…

In consideration for (in return for) Your signing this Agreement and Your performance of the obligations under this Agreement, Company agrees to pay You severance pay in the amount of $400,000 (minus applicable withholdings and deductions) for the period beginning on June 29, 2013 and ending June 28, 2014. …

In addition, and at the same time that the payment of $400,000 is made, the Company will pay to you $20,000 to reimburse you for the purchase of the furniture (including, without limitation, couch, chairs, table, desk and cabinets) in the office You used. You may retain the MacBook Air and the iPad that the Company purchased for Your use. The Company, at its expense, will return to You all of Your personal effects.
He furnished his own office?
Then there's the fun bit about NOT putting the whole thing on Twitter:
You acknowledge that You understand that the Company may be required to file this Agreement with the SEC. If the Company is not required to file this Agreement with the SEC, You and the Company each understand and agree that the terms of this Agreement are to remain confidential. Neither You nor Company will publicise in any newspaper, electronic media, or other public or private forum (such as "blogs," job satisfaction websites, Facebook, Twitter or bulletin boards), the terms of this Agreement.
But thanks to SEC filing obligations, we do get to know about it...
What's next for FalconStor
McNiel became FalconStor's CEO after its founder and then-CEO ReiJane Huai was resigned in September of 2010. The company subsequently faced federal and civil lawsuits which were settled under McNiel's stewardship.
However the company's revenues did not recover and it brought in Wells Fargo to look at strategic alternatives, code for a possible sale or breakup, in November last year.
Its 2012 annual report (PDF) revealed that next-generation technology was late and would be rolled out in 2013 and 2014.
Hopefully the board and interim CEO will find some way out of the impasse they are in, which may offer a way forward for the company's employees and customers. Investors may not be so lucky, with the stock tumbling to $1.00 upon McNiel's resignation, having been as high as $2.82 in March, well down from a peak of $13.95 in 2007.
El Reg storage desk believes the fact that Quinn is not on the board could point to the four board members being set on a sale of the company. ®