A British rocket scientist with a sideline in High Altitude Ballooning (HAB) tomfoolery will tomorrow push the envelope of space endeavour by attempting to send a pint of London Pride bitter into the stratosphere.
When he's not boffining it up down at European Astrotech, Chris Smith can be found propping up the bar of his local boozer The White Swan, in Whitchurch, near Aylesbury. Asked by landlords Pete and Ros if in his capacity as resident space boffin he'd be able to dispatch a pint of the pub's top-seller heavenwards, he immediately accepted the challenge.
Naturally, such a serious proposition requires proper planning, and Chris has already launched test flights in support of the project. Controversially, these have featured Legonauts, and while this pair look confident enough at altitude during an April jaunt - codenamed BALYOLO* - they actually "took a leaf out of Felix Baumgartner's book and jumped off the payload half way through the ascent":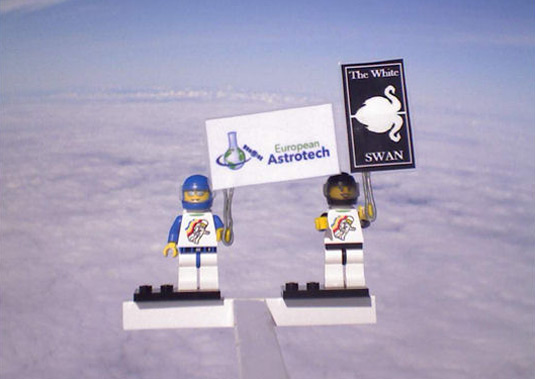 Having tweaked the mission kit, Chris says he's now ready for super-chilled beer action. The payload will pack a "Go-Pro Hero 3, Habduino and Arduino trackers (position and altitude), back up GPS tracker that kicks in below 1,000m and transmits direct to our mobile phone, plus a Polaroid HD video camera".
Regarding the vital beer container, he told us he'd rejected the idea of a bespoke high-altitude beer preservation podule in favour of "a sealable 530ml container purchased for £3.50 from Tesco and verified as suitable by placing in a vacuum chamber and pumped down to 20mb".
He added: "There will also be a small version of a pint glass flown with beer in, that will remain exposed to vacuum on the way up so should be quite interesting to watch boiling away at altitude."
The launch is scheduled for around midday tomorrow at The White Swan, where locals will be able to follow the tracking and recovery action live.** The hostelry's putting on other entertainment during the day as part of its elevation to "Astro" pub status, with live music in the evening.
On the delicate matter of miniature mission crewmembers, we asked Chris: "Are you flying further Legonauts? We see that your previous pair bailed out on the BALYOLO mission, suggesting they don't have the Right Stuff for this kind of high-risk operation. Our readers will certainly suggest that only Playmonauts boast cojones sufficiently large for the job."
The unrepentant boffin replied: "Many Legonauts are being flown, in the payload box, each one sponsored by a local. Only one will have the backbone (and big balls) to stand beside the pint in space during the flight."
Well, we're not going to argue with a man who's "been in the business 28 years, have launched around 30 spacecraft – was design engineer (and then senior test engineer) for the Rosetta mission that will land on a Comet this year, also worked on Cluster 2, Herschel, Planck, Mars Express, Venus Express and many others".
Chris explained that European Astrotech is "an independent company specialising in the testing and fuelling of satellite propulsion subsystems, propellant compatibility and propellant analysis".
He added: "Currently we are responsible for the fuelling operations on all 22 Galileo spacecraft, and various test programs for ESA and many large European Aerospace suppliers."
Sensing a marketing opportunity, we punted: "We see Astrotech has got experience with unsymmetrical dimethylhydrazine. Do you think the drinkers down at the The White Swan would be interested in our "Devil's Venom" - a Russian-brewed hypergolic blend of UDMH and nitric acid with a dash of cranberry juice? We can send a bottle over as long as the pub's got the emergency ground crew and fire truck to handle it."
Chris replied: "If you've managed to blend UDMH and nitric acid without any loss of life I'd be interested in offering you a job." ®
Bootnotes
*BAL (BALLOON) YOLO (YOU ONLY LIVE ONCE). "It's a student thing," Chris explained.
**If you want to tag along, try spacenear.us tomorrow, callsign "BALYOLO".