Turnaround artiste John Chen marked one year as BlackBerry boss with an avalanche of enterprise software news related to the firm's new BES12 server, which can manage enterprise mobe devices running Android, iOS, Windows Phone – and of course, BB's own mobile OS.
BlackBerry wants to manage absolutely everything: PCs, Macs, sensor-based M2M devices in the mythical "Internet of Thingies" and more... and the firm is even making nice with Samsung.
Chen wants to grow the $250m software side into a $500m business, and claimed carriers will be selling BES12 as a hosted deal.
Of note to businesses is tech that allows an enterprise to give employees a work phone number on their own BYOD device. So, for example, a new starter can keep the phone they already acquired personally, and run a virtual company phone number alongside it. All usage from this virtual number, including data, will be billed to the company.
In a recent interview, BlackBerry's president of Global Enterprise Services, John Sims, told us why the company made this acquisition. After 15 to 20 years with a firm, some employees viewed their phone number as part of their identity - and courts looked sympathetically on this. BlackBerry acquired Movirtu two months ago for this technology, and has given it the brand "Worklife".
The most ambitious bit of the announcements is end-point control and audit of devices, Enterprise Identity and VPN Authentication. BlackBerry said it already manages 200 million devices so it's bringing some of this access and tunnelling know-how and turning it into a product – or more accurately, a service.
Penetrating Fort Knox
The company made much of the security threats out there: even the US government's security screening contractor has been hacked, said COO Marty Beard. These threats are only likely to worsen as poorly secured embedded devices begin to access corporate clouds.
BlackBerry is also making friends with Samsung, which 18 months ago announced its Knox security stack for Android, going after BlackBerry's core proposition very aggressively.
Knox partitions an iOS or Android device into secure and non-secure partitions - something BlackBerry does out of the box on its own BB10 devices with its Balance feature. BES12 will manage Knox - and also Salesforce sites, but the pricing for the connector wasn't revealed at the event.
BBM is slowly being expanded into telephony groupware with Meetings, for voice and video conferences of up to 25 people.
Will biz Blend?
And BlackBerry also said it will bring its new Blend software – which currently only works with the Passport – to the enterprise. It's a lightweight client for a PC, Mac or tablets that's a kind of a remote console for the phone - you can email, message or BBM away with Blend, and even access files securely, using the BlackBerry as a router. In our review we found it a fairly promising for v1.0 product.
Blend doesn't yet support voice or video calls - a trick Apple can perform with its iOS8/Yosemite combination. But then the Apple equivalent only works with Apple gear. As you'd expect. Blend is going to be most useful in hot-desking setups where security is valued.
And you can imagine the thinking behind another new offering: secure voice. The Snowden files alleged that Chancellor Angela Merkel's phones had been "tapped" by the NSA (amongst others, after which Merkel switched to using a BlackBerry BB10 device with a custom phone app, Secure Call. BlackBerry snapped up the company Secusmart this summer. BlackBerry's encrypted voice communication has been chosen by the BSI, German's Federal Office for Information Security, BlackBerry said, for use by its officials. BSI is the equivalent of the UK's CESG. President Obama denied the tap.
Enterprise pricing has has been tweaked for all these goodies. BES10 offered a perpetual licence; the BES12 Gold plan - which is needed for the secure containerisation and other features - will be £45 or £55 per device per year. The Silver subscription is £15 or £25 and gets you basic MDM and email.
BBM Meetings, Blend and VPN access are all extras. Enterprises are being lured in with an EZ-Pass scheme, giving BES5 shops a path to a perpetual BES12 licence - but this scheme ends in January.
Fanbois, weep
Conspicuously absent from the "enterprise day" was any new kit to excite prosumers or BlackBerry enthusiasts. But then Chen had already dampened expectations ahead of the event.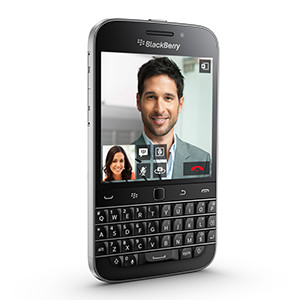 The BlackBerry Classic can now be pre-ordered
Chen had said he would introduce one "radically new" device in 2015 and refresh the Passport, forthcoming Classic and Z3 lines - leaving nothing to replace the high-end full touchscreens.
"I'm not going to build a general purpose device, simply because it is a 5-inch touchscreen," Chen had said. "The Chinese can build one for 75 bucks, I can't get enough parts together for 75 bucks."
This means BlackBerry is only going to build BlackBerrys for customers who are likely to buy them. Chen did note the hardware plans for 2015 weren't nailed down yet.
BlackBerry is taking pre-orders for the Classic, available for £349. No ship date has been set but a 17 December event is taking place when we'll hear more details. We'd be surprised not to see the capacitive, swipe gesture physical keyboard of the Passport make it into more devices in the future. It's one of those "blindingly obvious in retrospect" innovations. ®