This article is more than 1 year old
Suffering satellites! Goonhilly's ARTHUR REBORN for SPAAAACE
BT's sat comms site repurposed
NASA back up
Ian Jones is chief executive of GES and he designed and built some of Goonhilly's equipment when he worked for British computer pioneer Ferranti. For my trip, I spoke to Jones; he tells me that when BT announced the site's closure, he and former colleagues saw "an amazing potential" to turn it into a mixed-use site, taking advantage of the equipment and infrastructure already in place. The dish's monstrous size makes it ideal for capturing and helping track signals from deep space – both natural and artificial, Jones says.
In January 2011, GES agreed with BT to lease the antennas with an option to buy the whole site. Three years later, having increased business and raised private equity funding, it exercised that option. The deal includes BT leasing back a few areas of Goonhilly, including the part that houses its subsea cable station.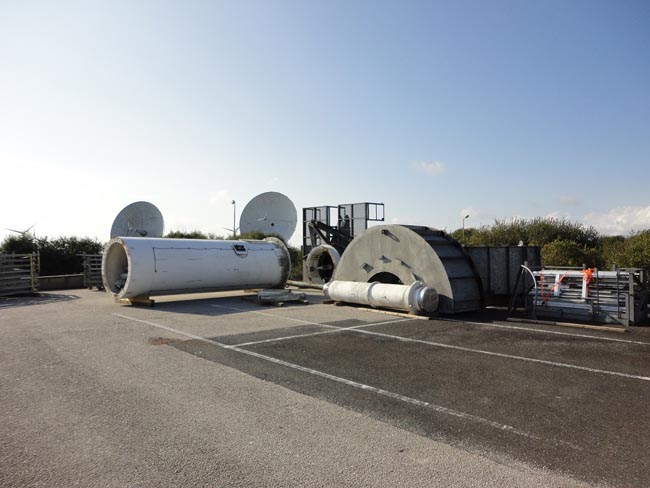 A dish waiting assembly for Goonhilly's new era. Photo: SA Mathieson
Arthur and Guinevere (aka Goonhilly 3) are joining a dispersed group of dishes known as an interferometer network – appropriately called e-Merlin – run by a consortium of British universities, with antennas at Jodrell Bank in Cheshire - also a stop on the Geek's Guide tour - and in Cambridge.
Goonhilly has agreed with the UK's Joint Academic Network (JANET) to install a dedicated 10Gb/s fibre link to Jodrell Bank, and Manchester University will fit a new receiver to Arthur in 2015. GES is sponsoring a student at Oxford University to assemble a cryostatic receiver for Guinevere.
Using a network of antennas will enable scientists to reduce noise from local interference in the atmosphere by combining their signals. This amplifies the signals they all receive from deep space, while cutting the relative impact of local noise. It also greatly increases angular resolution, allowing faraway objects to be separated, through a baseline hundreds of miles wide.
Goonhilly's location, less than a degree of longitude away from NASA's Deep Space Network dish site in Madrid, means it can also act as an alternative to the Spanish site, and - at 50 degrees north of the equator - it is within the orbital inclination of the International Space Station. This gives Goonhilly frequent long-duration passes from such objects, allowing plenty of data to be downloaded. "We are just at a very fortuitous location," says Jones.
Goonhilly also provides tracking and telemetry services for satellites and other earth stations. A half-a-billion dollar satellite on the fritz, with its powerful focused antennas off-target, has to rely on a low-power omnidirectional one to receive instructions to put it back on the straight and narrow. "The legacy large antennas are really good for this," says Jones. It can also use its established calibrations to help other earth stations verify and test their antennas.
Finally, although this is something for the future, Jones thinks there is potential to communicate with vehicles in deep space. Noting India's recent Mars probe, which it sent at a fraction of the price of previous missions, he says national agencies are starting to explore austerity in space. "The space agencies realise they can outsource," he says, with Nasa having commissioned SpaceX to build a transporter.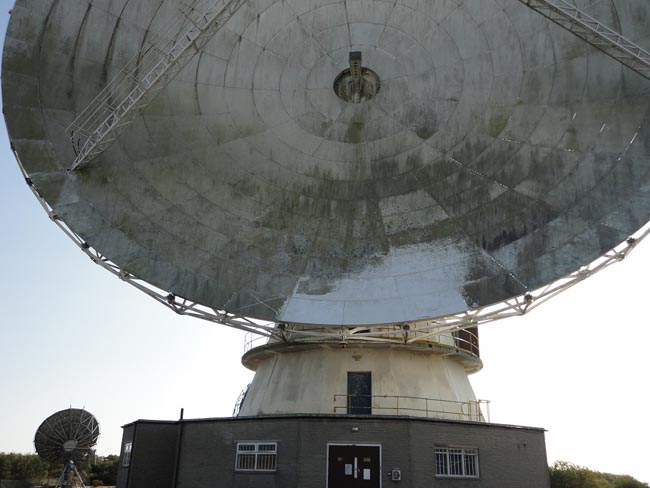 Spot clean - Guinevere shows a hint of her former brigthness. Photo: SA Mathieson
Jones hopes that Goonhilly's visitor centre, once a mainstay of Cornish tourism, will reopen in 2015 or 2016, although educational outreach work should precede this. The centre will show off Arthur and focus on space travel, with a planetarium and a simulated planetary surface rather than dwell on its past as in the hands of certain British telecommunications company. "It's going to become a really fantastic, inspiring location for people to come," Jones says.
It's time for a tour, laid on by Jones especially for El Reg. Currently, the only way around Arthur is by riding a Segway on a course set up next to the dish. We start in the building at the side of the control centre; climbing up a staircase you emerge on a viewing platform for visitors taking the bus-ride around the site.
Here sits an Asus PC connected to a dongle, in turn connected to a simple radio mast, four bars of metal connected at right angles on top of the control centre's roof. This is AmSatUK's tracking station for FUNcube, a UK-Dutch amateur project which has involved launching two miniature satellites for use by schoolchildren.
Out on the plateau, Goonhilly looks little changed from what I actually saw a decade ago in the BT days, with many signs still using the telco's old corporate font. But Jones does point out some differences, though. Goonhilly has said goodbye to a series of smaller dishes - Gareth, Gawain, Geraint, Galahad - built in the 1980s and 1990s for Inmarsat maritime services. However, satellite data operator Avanti has leased this part of the site and placed new antennas there, along with a sister site near Land's End, a few miles west.