New dirt-cheap Chromebooks: Team Google keeps jackboot on throat of PC titans
But Microsoft may be about to strike back
---
While Google is trying to push Chromebooks upmarket with its flashy Pixel, its Chrome OS partners continue to target budget-conscious buyers with a new batch of devices priced at $250 and lower.
Chinese electronics manufacturers are leading the latest charge, with both Haier and Hisense making new Chromebooks available for preorder beginning on Tuesday from Amazon and Walmart.com, respectively. Each cloud-reliant device lists for just $149.
Later this year, Asus plans to release the first convertible Chrome OS device, the Chromebook Flip, where the screen can be twisted around so that it can be used as a touchscreen tablet. This model will be just 15mm thick and weigh less than 2 pounds, and it will be available later this spring for $249.
Later in the year, Asus plans to follow up the Flip with another device in a novel form factor, the Chromebit. This one will be a self-contained Chrome OS computer in a dongle that can connect to any display via HDMI, where users supply their own Bluetooth keyboards and mice to control the device. It will also include a USB 2.0 port for further expandability. Exact pricing for this device was not available, but Asus said it expects it to retail for less than $100.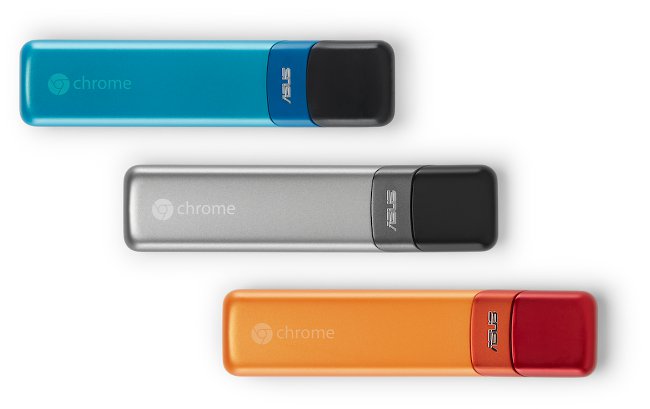 Asus' upcoming Chromebit is the smallest Chrome OS device yet
Under the hood, all three new devices are remarkably similar. All are based on the Rockchip 3288, a Chinese-made SoC that marries four 2.0GHz ARM Cortex-A17 cores – the first such product in the world – with an ARM Mali-T764 quad-core GPU.
Rounding out the offerings is support for the standard set of ports, including USB (2.0 only), card readers, 720p HD webcams, 802.11ac Wi-Fi, and Bluetooth 4.0 with support for Smart Ready – although obviously the tiny Chromebit will lack many of these.
In an unusual twist these days, Haier also plans to market a model called the Chromebook 11e that will include a replaceable battery, although it didn't say how much extra it will cost.
Google said in a blog post on Tuesday that these devices will soon be joined by still more Chromebooks from such vendors as Acer, AOpen, Asus, Dell, HP, Lenovo and LG. These devices are expected to come in screen sizes ranging from 11.6 to 15.6 inches, with prices in the $199 to $499 range.
The Chocolate Factory itself, meanwhile, recently released an updated version of its Chromebook Pixel, a touchscreen Chrome OS laptop with hardware quality to rival the MacBook Air and a $999 price tag to match.
Microsoft creeping in on Google's territory?
Google's Chromebook partners may soon face increased competition for the low end of the PC market, however. Rumor has it that no less than Microsoft is planning to release a pair of clamshell laptops this summer that will offer the full Windows experience but at rock-bottom Chromebook prices.
According to the Taiwanese supply-chain gossips at DigiTimes, both machines will have 11.6-inch screens, but unlike the Rockchip-based devices announced on Tuesday, they will reportedly be powered by Intel Bay Trail-T CR Atom Z3735f processors.
The rumor has it that one will be manufactured for the consumer market by China's 3Nod with a retail target bottom price of $149, while the other will be built by Elitegroup in Taiwan for the education market and will have a starting price of $179.
If the scuttlebutt is true, it's not immediately clear whether these systems will be marketed broadly or if they will be limited to emerging markets. ®