Planet killer: Ex-army officer's Welsh space-rock mission
Tunguska, Chelyabinsk... Powys
---
For those about to observe rock
As a finale, Tate leads us out of the exhibition room into the tall circular space which houses one of these two telescopes. After climbing some steps, we see a 13-inch-lens, 2.5-ton refractor telescope on a hydraulically powered floor – which Tate demonstrates while we're standing on it – and a rotating roof. Another 14-inch-lens telescope sits inside a white dome opposite the observatory's car park, although this isn't part of the tour.
It all sounds a little Bond villainesque, as does the centre's Project Drax, named after Moonraker's missile-obsessed baddie. Having said that, most Bond villain projects don't include "possibly the survival of the human species" in an online mission statement – but Project Drax does, because all being well, it will let Tate search for new NEOs, as well as confirm those already seen.
Back down the stairs, he shows off pictures of the telescope he will use under Project Drax. In June 2009, the Spaceguard Centre took ownership of a 24-inch-lens, 7.5 ton Schmidt Camera, built in Newcastle in 1950 and later moved from Cambridge to Knighton. It was donated by Cambridge University's Institute of Astronomy, as light pollution in Cambridgeshire meant it was no longer viable. When it is installed in dark-sky Powys, it will be the largest telescope in Wales, capable of observing five degrees of sky at a time.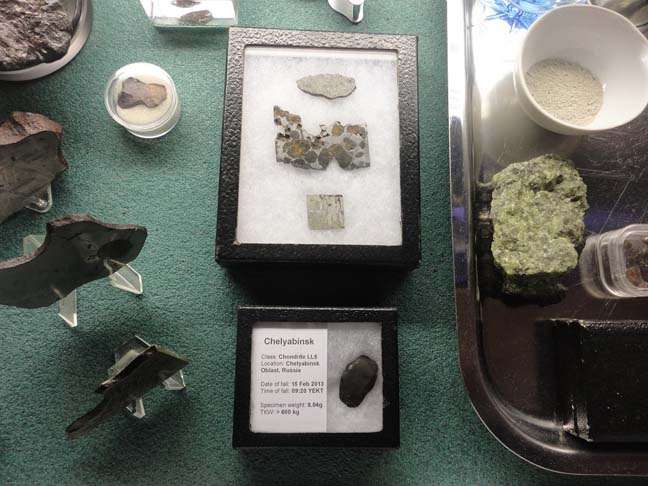 Sample from Chelyabinsk
Since then, Tate and a group of volunteers have largely built the housing for the new telescope and installed its base assembly: visitors can see this to the right of the centre's entrance. To install the telescope itself – currently waiting shrink-wrapped in plastic – and the technology to work it, the Spaceguard Centre needs the final third of the project's £97,000 budget.
If money were no object, Tate reckons work could be finished within months. But now, our tour exits through the gift shop – because this, along with donations and entrance fees, is how the Spaceguard Centre is raising the rest of the money to set up what will be the only dedicated asteroid tracker outside of the United States.
Tate encourages us to dig deep, not least because he has stationed a sniper outside to take out non-payers. He's probably joking.
The location of the centre on top of a hill in a remote part of the country means that getting here is likely to take a bit of planning. There is no catering on-site, although there are cafes and inns including the Horse and Jockey down in Knighton. The town also offers the Offa's Dyke Centre, a museum about the giant earthwork which marked the old border between Wales and England and the long-distance path that now follows it. Other nearby attractions include the scenic Elan Valley estate further into Powys, the Red Kite feeding station near Rhayader and the Small Breeds Farm Park and Owl Centre in Kington in Herefordshire.
Knighton, which also has a branchline train station, is just 17 miles west of the handsome and historic town of Ludlow, a tourist favourite. It is also less than 75 miles from population centres including Birmingham, Stoke-on-Trent and Cheltenham.
It's worth allowing some extra time to get to the Spaceguard Centre, as the local roads are more scenic than speedy. But it is worth the trip. Visitors learn about the problem of NEOs from someone who devotes his life to the subject and can explain it in an informative and drily humorous fashion – in a way that isn't likely to scare children, although it may confirm adults' fears about the UK government.
And by paying to visit, you also become a small part of the solution. ®
GPS
52.325, -3.019
Postcode
LD7 1LW
Getting there
By car: Knighton is on the A4113 from Ludlow and the A488 from Llandrindod Wells to Shrewsbury. The Spaceguard Centre is reached by turning off the A4113 just east of the town centre, and driving south (and up) Llanshay Lane for 1.5 miles, then west on a farm track. There are clear signs at each junction, which are to be trusted more than your satnav. Public transport: Knighton train station is about 50 minutes from Shrewsbury on a stopping service which runs four times each weekday and reaches Swansea three hours later. You will then have a long walk uphill to the Spaceguard Centre – it may be better to get a cab.
Entry
Entry is by conducted tour only, and costs £7 for adults, £4 for children aged 5 to 15. Tours run on Wednesdays, Thursday, Fridays, Saturdays and Sundays at 2pm and 4pm from October to April, and also at 10.30am from May to September. Although it is usually possible to turn up at one of these times on spec, the centre recommends you phone first in case it has a block booking. Group tours can be arranged at any time (including evenings, for £1 extra per person), with a minimum charge of £48.
Website